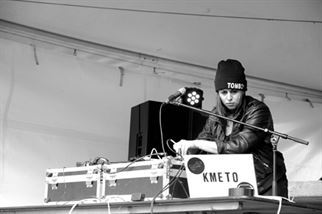 Sled Island is my favourite festival in the city - the running from venue to venue, seeing bands you love, and discovering new ones. Of course, for the likes of me, the style and documenting it is what also keeps me coming back each year with as much enthusiasm as the year before. Although this year might of held even more enthusiasm - after last year's cancellation due to the flood, everyone I spoke to was happy and relieved that the festival was a go this year.
The weather is what usually dictates a lot of the style that ends up making an appearance, although no matter if the sun shines or the rain falls, most bring a style that is festival ready and appropriate no matter what. I was able to capture a diverse crowd that included much colour and pattern, fantastic hats (as per usual), and even red rain boots with a polka dot rain jacket courtesy of young Olive Hall.
Always a pleasure Sled Island - thanks so much to everyone that I had the pleasure of meeting and photographing at this year's festival, and to all those who purchased passes to make sure that the festival thrived again - so let's make sure to do it again and again!
---