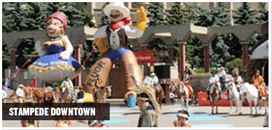 July 7 to 12 -
The Calgary Stampede Downtown Attractions Committee wants all Stampede visitors to have a hand clappin', toe tappin', and belly bustin' good time! Throughout Stampede week, they'll feed you… entertain you… and have you dancing in the streets! Downtown Attractions include events and activities at Fluor Rope Square (Olympic Plaza on the corner of 7th Avenue and Macleod Trail SE across from City Hall), and other locations in the downtown area. All events are FREE and continue until Saturday, July 12th.

July 9, 10, 11, 12 -
Spend a summer's evening in the park and laugh at one of Shakespeare's silliest plays. When two sets of twins, separated at birth, find themselves in the same city, a series of wild mishaps ensue! Starring a company of Alberta's up-and-coming actors, every performance is pay-what-you-will.
Shows Wednesday thru Sunday, see website for exact showtimes and details.

July 7, 8, 9, 10 -
Stop by the Wildhorse Saloon this week for a series of live music concerts featuring The Arkells (July 7th), 54-40 (July 8th), Gord Downie, Sadies (July 9th) and BC/DC (July 10th).

Wednesday July 9 -
[email protected] presents Maria Drost, mezzo-soprano. Calgary's Maria Drost's training began at Rocky Mountain College where she attained recognition as the lead Soprano in the choir, as well as winning a number of awards and scholarships through local festivals. See her perform for free over the lunch hour.

July 12 -
The Stephen Avenue stage is the spot for free, outdoor music all summer long. Starting Saturday, July 12th you can see some great up-and-coming musical acts on our stage. See the website for more information on future shows, running Tuesday through Saturday all summer long.
---