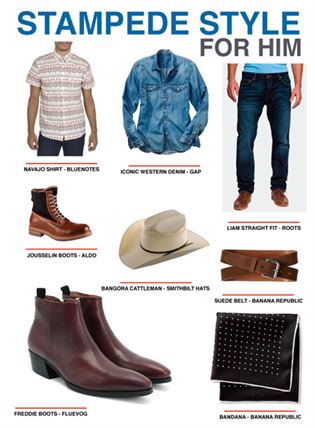 We are already well into the mix of Stampede and maybe you've already realized that you need a wardrobe makeover. Perhaps the Wranglers look just isn't you - maybe you prefer something a bit more modern and are looking for a look that can transition well-past Stampede season. Luckily, you have until Sunday to perfect that cowboy vibe. Everything can be conveniently found in Downtown Calgary - just moments away from all of the Stampede action.
One of the necessities is a great Western or pseudo-Western shirt. The Navaho shirt from Bluenotes is the perfect button-up to transition in your wardrobe throughout the summer. Not only will the short sleeves be easy-breezy as you walk through the hot fairgrounds but you'll also be styling with this fun summer print. Pair it with a dark denim jacket and you may be able to get away with wearing it more than once during these 10 days of crazy. Alternatively, you could go classic with a basic denim Western shirt that looks great on everyone like this 1969 iconic version from GAP. Pull on some denim jeans (these straight fit vintage jeans from Roots are ideal for hitting the town) for the ultimate Canadian tuxedo. Dreams do come true.
A good pair of boots are also key for the downtown cowboy. Whether you go with a modern textured boot like this two-toned Aldo lace-up or a slim cowboy by-way-of rocker boot from Fluevog, you'll be able to do no wrong as you kick up your heels at the Nashville North tent or at all of the pancake breakfasts. Top your outfit off with a classic straw Smithbilt hat like the Bangora Cattleman sillhouette and you'll have the best hat hair in town.
Lastly, some sweet accessories will complete your outfit with ease. A classic suede leather belt will keep that denim in the proper place while you can use your fancy polka dot bandana to mop away the hot sun off your forehead.
So, don't despair inner-city cowboy - you've got lots of time to get downtown and fix up that Stampede style of yours.
Where to Buy:
Navaho Shirt, Bluenotes
Jousselin Boots, Aldo
Liam Straight Fit Jean, Roots
Bangora Cattleman, Smithbilt Hats
1969 Iconic Western Denim Shirt, GAP
Suede Belt, Banana Republic
Polka Dot Square Bandana, Banana Republic
Freddie Boots, Fluevog
---