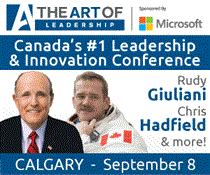 This September, five world-renowned leaders and bestselling authors will share the stage at The Art of Leadership to discuss their revolutionary ideas and experiences on becoming motivating and impactful leaders in demanding and challenging settings in order to create sustainable organizational success.
Early registration is advised for this event. Downtown Calgary subscribers and readers can take advantage of a preferred rate - use promocode DOWNTOWN32 and receive $50 off when registering, with an additional $50 off per pass for groups of three or more. Click here for more information: http://info.theartof.com/lc14/downtown32
Who are these leaders?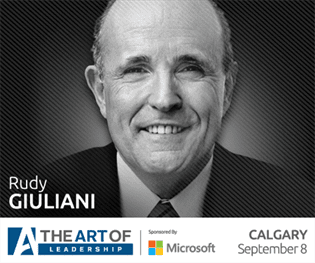 Rudy Giuliani
One of the World's Most Respected Leaders and 107th Mayor of New York City
Rudy Giuliani has been a resolute voice on tough issues from global conflicts to political leadership. He was awarded an honorary knighthood by the Queen of England and named TIME Magazine's "Person of the Year" for his bravery during 9/11.
He is also well known for is remarkable record for leading 4,000 convictions following his battle against organized crime and turning a $2.3 billion dollar budget deficit into a multi-billion dollar surplus while adding 450,000 new private sector jobs.
Recognized as "Consultant of the Year" by Consulting magazine, Giuliani is a leader in strategic consulting. Always a dynamic presenter, Giuliani reminds audiences of the vigilance leaders require to protect freedom.
What you'll learn from Rudy Giuliani:
His time-tested principles based on his bestselling book Leadership.
How effective leadership can ultimately result in profitability.
How to use these seemingly simple principles in your own life to inspire excellence from the team around you.
Riveting stories of how he marshaled his remarkable leadership skills to pull his city, and perhaps the entire nation, through the crisis.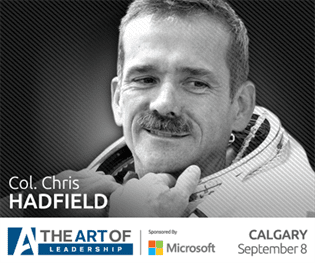 Col. Chris Hadfield
Astronaut and Former Commander of the International Space Station
Since blasting off from Kazakhstan in December 2012, Hadfield has become a worldwide sensation. Harnessing social media to make outer space accessible to millions and fueling a collective consciousness not felt since man first walked on the moon. Since landing back on Earth, Hadfield, often called "the most famous astronaut since Neil Armstrong", continues to share his passion for science with everyone he meets.
Three months after his launch, Hadfield took command of the International Space Station, a first for a Canadian. He sent daily tweets and photographs from space that have been shared with millions, attracting replies from William Shatner and Queen Elizabeth. Being accessible and inclusive with his fans to interactively answer their questions and collaborate with The Barenaked Ladies on a song sung by millions simultaneously he is endeared by the world.
What you'll learn from Col. Chris Hadfield:
His stories on being a member of the Canadian Armed Forces, becoming an engineer, fighter pilot and test pilot with the Royal Canadian Air Force, the US Air Force, and the US Navy, before being selected as a Canadian astronaut.
His lessons from leading Expedition 35 which launched from Kazakhstan in December 2012 after becoming the first Canadian commander of the International Space Station.
Useful and practical lessons he's learned throughout his remarkable career in the fields of leadership, teamwork, collaboration, science and technology.
How to motivate you and your team to achieve dreams higher than the clouds.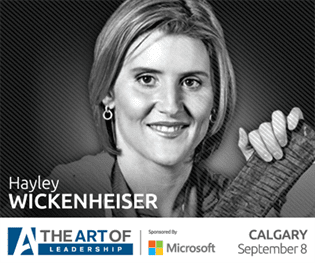 Hayley Wickenheiser
Four-time Olympic Gold Medalist for the Canadian Women's Hockey Team
Regarded as one of the best female hockey players in the world, Hayley is determined and dedicated to her sport and community. She was named the team's MVP twice and selected as the Flag Bearer for the Winter 2014 Olympic games in Sochi. Hayley has led the Canadian Women's Hockey Team in earning six gold medals and a silver medal at the Women's World Hockey Championships and four Olympic gold medals along with one silver, leading Sports Illustrated to name her as one of the "Top 25 Toughest Athletes in the World".
Hayley made history as the first female hockey player to score a goal in a men's professional league. She has also played with Sweden's men's professional division-one team. Now residing in Calgary, she is a valued community member through her work with KidSport, Right to Play, Dreams Take Flight Clean Air Champions, and Spread the Net.
What you'll learn from Hayley Wickenheiser:
What a successful team needs and how Team Canada succeeded on the World Stage.
The importance of always looking for improvements and change within your life.
Why success comes from going above and beyond what others normally do.
Complacency kills - Advice on how to keep the desire alive.
What it was like to grow up playing with the boys and later playing men's professional hockey overseas.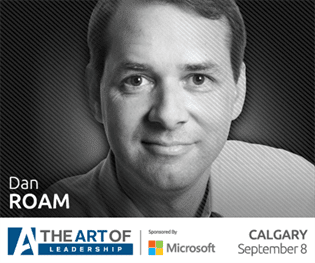 Dan Roam
International Bestselling Author, The Back of the Napkin: Solving Problems and Selling Ideas with Pictures
Dan Roam's bestseller, The Back of the Napkin, was named the innovation and creativity book of the year by Fast Company, Business Week and the Times of London. It has been published in 27 languages and has topped business book charts worldwide. Dan is a frequent guest on CNN, NBC, ABC, CBS, Fox, and NPR. As the founder and president of Digital Roam Inc., Dan has used his method of visual thinking to solve complex problems for Google, Beoing, Microsoft, and the U.S. Navy. Dan was invited to the White House Office of Communications to clarify the complex issue of American health care after Business Week hailed his presentation on the subject through 50 napkins as "The World's Greatest Presentation of 2009".
What you'll learn from Dan Roam:
His classic "Back of the Napkin" toolkit, containing the same tools he has used with teams at Microsoft, Boeing, Intel, Wal-Mart, and the United States Senate.
How to solve a problem and map out the path to an effective solution using basic elements from "The Back of the Napkin" toolkit.
How anyone, regardless of artistic talent or training can use simple pictures to describe what we do, explain complex ideas, solve fuzzy problems, and sell others on breakthrough ideas.
How to gain a deeper understanding of the 4 steps of visual thinking.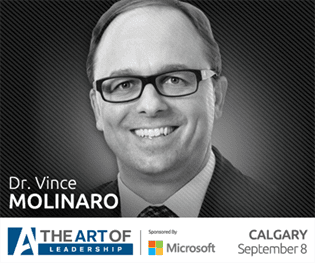 Dr. Vince Molinaro
New York Times Bestselling Author, The Leadership Contract: The Fine Print to Becoming a Great Leader
Dr. Vince Molinaro is the Managing Director of the Leadership Practise within the awarding winning company, Knightsbridge Human Capital Solutions. Vince sets the bar high for the leadership of his team, working hard to live by his leadership philosophies. His passion is in helping senior leaders and executives create compelling organizations that drive sustainable growth through strong leadership cultures.
As an engaging speaker with experience conducting keynotes for numerous corporations and conferences, Vince is frequently called on for his innovative opinions on the future of leadership and his pioneering research in holistic leadership.
What you'll learn from Dr. Vince Molinaro:
How to fully commit to a culture of effective leadership.
How to thoroughly accept and manage the operational workload required of an effective leader.
Motivational strategies to provoke high standards for working team members.
How to network candidly and connect to a broader community of like-minded leaders.
-
Editor's Note: this has been a guest post by The Art Of promoting the upcoming The Art of Leadership conference that is happening in Downtown Calgary on Monday, September 8th, 2014. If you'd like to promote your event in Downtown Calgary, please email [email protected]
---