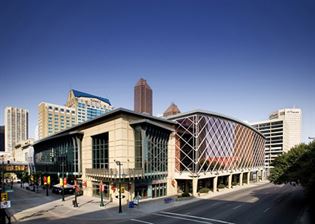 This year Calgary TELUS Convention Centre (CTCC) celebrates its 40th anniversary and you are invited to the party.
That's 40 years of playing host to Calgary, Canada and the world, attracting more than 250,000 people a year to enjoy the best of what the city has to offer. Forty years of making history with Calgary, and serving as a hub for education and networking, and as a catalyst for innovation.
To celebrate this milestone, CTCC is offering residents and visitors a summer full of giveaways, a stroll through 40 years of history, and a contest that converts selfies into a chance to win a great prize – 40 Hours of Fun, Food and Culture in downtown Calgary.
Events are underway and include takeovers of C-Train platforms, with giveaways of sweet summer swag. Food giveaways will whet people's appetite to discover more about the city. Along Stephen Avenue, artists will create chalk street drawings celebrating the history of Calgary and CTCC.
The Convention Centre and the city have aged gracefully over the last 40 years and they are looking forward to the next 40. Anyone who wants to see if they will appear fantastic or faded 40 years from now is invited to the Age Booth outside the Convention Centre. They'll see an image of themselves from four decades into the future.
To underline what a great history Calgary and CTCC share, the Convention Centre also offers its 40 Year Stroll. An interactive guide and map tracks significant events, ranging from the tradition of riding a horse to the Observation Deck of the Calgary Tower to the yarn-bombing of the Famous 5 statues by woolly activists.
Not only can people take the 40 Year Stroll, they can enter the 40 Hours of Fun, Food & Culture Contest running from August 6 – September 14th. Using fun, obscure, wacky clues broadcast through Twitter they will decipher what location is being talked about and stroll/run/ride over and take a selfie in front of the place, which they'll email back to CTCC or share on Twitter.
After 40 days, all the eligible shooters will be entered into the draw to win 40 fantastic hours of dining, luxury accommodation, entertainment and shopping in downtown Calgary.
Apparently the Calgary TELUS Convention Centre is determined to enter its next 40 years with a bang not a whimper.
This post was written by a representative from the Calgary TELUS Convention Centre for Downtown Calgary. If you're interested in sharing your event or business with our readers, please contact [email protected]
---