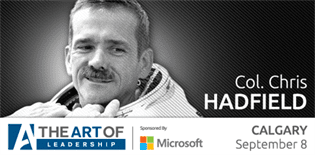 Business conferences, such as The Art of Leadership in Calgary on Sept. 8th 2014, are not just a crucial event for learning competitive insights from world leaders, they are also the place to see and be seen. Top executives from Canada's largest companies can be found in these seats and it's the time to impress. So how can you get the most out of your next conference?
The answer is simple:
Prepare, prepare, prepare
When you get ready to pack for Puerta Vallarta you want to be sure you have everything you need for a worry-free vacation. It's the same when it comes to a conference, make yourself a checklist of what to bring.
Here are a few items to help you get started:
A notepad or tablet computer: You'll definitely want to keep track of all the "ah-ha" moments from the day's keynote speakers. Col. Chris Hadfield has had many unbelievable experiences and you're boss will be pretty impressed when you show him your list of Col. Hadfield's "Tips for Running your Office Better than the International Space Station" or your take on Rudy Giuliani's "Keeping Your Cool Under Pressure" guidelines.
Your Twitter account: The bonus to going digital for the above is that you can post your favourite quotes in real-time and become a real influencer. If your phone or tablet has a camera (and who's doesn't, really) you can show everyone your awesome picture of Hayley Wickenheiser on stage! The best part is that The Art Of gives away a great prize for the best tweet from the day. Don't forget to bring your charger too!
A great outfit: There will be plenty of opportunities to network with executives and business leaders during the conference, especially at the VIP and Platinum lunches. Make sure you're ready to make a career-launching connection through-out the day without worrying about spinach in your teeth. Along with a great outfit, bring a spot remover pen, and your awesome smile.
Lots of business cards: Although some might think it's outdated to carry a business card in today's modern world of LinkedIn, it doesn't hurt to have a good-sized stack ready to go. It's more likely you'll be remembered when you send a request to connect if they've seen your name in print before. Plus, with all the cool new ways to make your personality pop in a custom card, you can easily make an unforgettable statement. Just don't forget to collect business cards for yourself as well.
Great questions: While some people seem to be gifted at making conversation, others may want to have a few go-to questions and ice-breakers in mind. A few favourites include; "What do you find most rewarding about your position/company?" or "How do you relax while you're away from the office?" Most people love to talk about themselves, but the real trick is to get to know them. When people feel that they've had a real conversation with you, they'll be more likely to remember you. And who knows? Maybe they'll even refer you to someone you've been dying to work with.
The Art of Leadership conference is the must attend event of the year! Take the time to prepare!
Still haven't registered for your pass? Downtown Calgary subscribers can take advantage of a preferred rate! Use promo-code "DOWNTOWN32" and save up to $50 off, with the option for an additional $50 off each pass for groups of three or more.
Editor's note: this post was written by a representative from The Art Of to help promote their upcoming event. If you'd like to promote your downtown event, submit it on our Downtown Calgary Events Page.
---