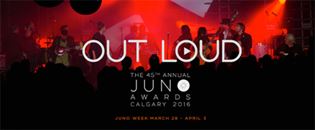 The 45th annual JUNO Awards are in Calgary this year and it's more than just a fancy awards ceremony! Look for fantastic events around downtown Calgary from now until April 3rd, 2016. JUNO week officially kicks off March 28th, but you can start enjoying the fun today. For more info, you can visit OutloudYYC.com
JUNO Hub - Stop by the CORE Shopping Centre for a FREE peek at some Canadian music history. Located on the 2nd level of The CORE, you can check out JUNO-related artifacts, photos, JUNO Cup Jerseys, as well as shoes worn by previous JUNO winners and other musical memorabilia including the JUNO Award itself. Friendly JUNO volunteers will be at JUNO Hub Mondays to Saturday until April 3rd, 2016 to guide you and answer your JUNO questions.
JUNO Tour of Canadian Art - Make your way to the Glenbow Museum for music themed tours and events. Be at Glenbow on Thursday, March 24th 2016 for their popular Out For Lunch tour, which will feature favourite peieces of art as chosen by some of Canada's most renowned musicians. Entry is just $5 for the public, and free for Glenbow members. Visit Glenbow April 5 - 7 for  an exclusive behind the scenes musically themed tour.
JUNO Cup Jam - This unique event at Flames Central is all about raising funds for charity while seeing some of Canada's biggest names in music collaborating for an unforgettable night of music.
JUNO Songwriter's Circle - there are still a few tickets left for this event hosted by Paul Brandt at the Jack Singer Concert Hall. Featuring a number of JUNO nominated including Alex Cuba and Matthew Good, this event is an afternoon of songs, stories and discussion about songwriting.
JUNO Fest - Last, but definitely not least JUNO Fest features 2 full days of music (April 1st & 2nd) with more than 100 bands at 15 venues across Calgary. Downtown venues include The Palomino, The #1 Royal Canadian Legion, Dicken's Pub, Flames Central, Knox United Church, and Wine-OHs. See the full JUNO Fest line-up and schedule here.
That's it for official JUNO events in the downtown core, but don't fret… 2016 has been named the Year of Music so there will be plenty more opportunities to enjoy music downtown and across the city.
---