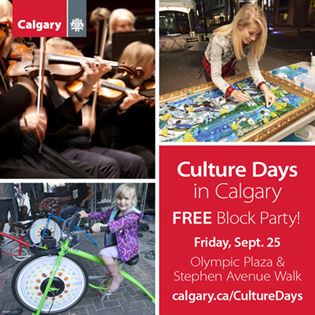 Join us downtown for an unforgettable kick-off to the Alberta Culture Days celebrations on September, 25th 2015.
Starting at 3:30pm on Friday, Sept 25th you can enjoy some free events on Stephen Avenue and Olympic Plaza in Downtown Calgary. The block party kicks off Alberta Culture Days, which is a province spanning event that encourages Albertans to enjoy culture in their own backyard!
Come and enjoy an array of interactive and fun activities, showcasing Calgary's burgeoning music and arts talent. Work directly with artists and enjoy dance demonstrations and musical performances. You may even have the opportunity to play an instrument yourself!
The party will include an array of interactive and fun activities & workshops showcasing Calgary's burgeoning arts & culture talent:
Alberta Printmakers – Steamroller printmaking demonstrations
Arts Commons showcase Latin dance performance by Havana Cuban Dance Studio
Bafut Manjong Cultural Association of Calgary - traditional dance performance typical of the Bafut people from the Western Highlands of Cameroon
Brazilian dance performance - Samba
Calgary Korean Art Club dance performance
Calgary Philharmonic Orchestra – string quartet playing from their upcoming pop series
Calgary Society of Independent Filmmakers
City of Calgary Public Art Program
Cowtown Opera performance
Derek Beaulieu poetry reading
EMMedia
Dueling Pianos - playing hits and taking requests
First Nations dance performance
Food Trucks – The Naaco Truck and Subs N' Bubbles
Glenbow Museum's Art on the Mall – interactive art
Green Fools – circus workshops
Jubilee Auditorium's Instrument Petting Zoo
Krakusy Polish Folk Dance Association performance
Live music set featuring 2015 Juno Nominee Joanna Borromeo, Ruben Young and Justine Tyrell – performing as part of the 50 Days YYC festival
Neil Zeller photography workshops
Nur Box Theatre – featuring short films from the Calgary International Film Festival
Open Streets – Bicycle Show & Shine and Pedal Power demonstrations
The Peak 95.3 and 101.5 Kool FM - Learn what it takes to be a radio announcer
Pulse Studios street team - B-boy dancers
Rainika PhotoGraphik – tintype photo demonstrations
Theatre Calgary – interactive Art
Tri-tone Rhythm Ensemble tap dance performance
Vox Box Studios DJ Skool – DJ performances and workshops
Wise and Wilful Women Betty Hersberger, Karen Gummo and Mary Hays and Wild Storyteller Marie Bryce – telling the story of Isabella Lougheed, Nellie McClung and Mary Scott Widner
Culture Days is a pan-Canadian movement to raise the awareness, accessibility, participation and engagement of all Canadians in the arts and cultural life of their communities. For more information, visit calgary.ca/culturedays.
---