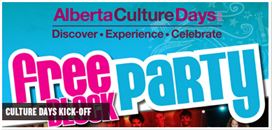 Friday, Sept 26th - 5pm to 10pm - The seventh annual Alberta Culture Days kicks off with a free party in downtown Calgary! Take part in dozens of interactive arts workshops, dance in the streets to beats curated by BassBus, get memorized by a projection mapping installation by Beama Visual Environments, then check out performances by Viet Cong and The Wet Secrets, plus more!

Runs until Sunday, Sept 28th - The Calgary International Film Festival is an 11-day showcase of over 200 multi-genre films from Canada and over 40 other countries. Hosting gala events, screenings, award ceremonies and special presentations, CIFF changes the way visual stories are shared and experienced.

Saturday, Sept 27th - The best art party in town just got even cooler thanks to the opening of Vanishing Ice: Alpine and Polar Landscapes in Art 1775 - 2012. The Glenbow will be celebrating with arctic -inspired treats and activities and welcoming all of the new exhibitions - Made in Calgary: The 2000s, Where Are The Children? and From Our Collection: Searching for the Northwest Passage - with music, visuals, libations and much, much more. Pay-what-you-can admission and cash bar.
Saturday Sept 27 to Sunday, Sept 28th - Over the last weekend in September, many of Calgary's most intriguing and beloved sites get naked for Doors Open YYC. For this one weekend, buildings in all quadrants of the city open their doors – free of charge – to the public and providing special revealing tours and behind-the-scenes experiences.

Saturday, Sept 27th - This will be the LAST 'Live on Stephen Avenue' performance for 2014! Catch the Ray Charles Tribute Orchestra with Samuel Lee Downie on our #IAMDOWNTOWN stage on Stephen Avenue (8th ave) between Centre Street and 1st Street SW.
-
If you'd like to be the first to know about great downtown events, sign up for our weekly newsletter.
---