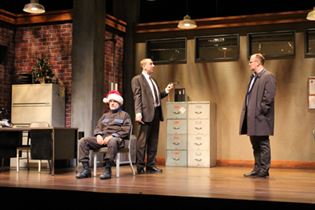 "If you take away the scales of justice, what are you left with? — Her sword."
This quote from Nicholas Billon's new play Butcher, presented by Alberta Theatre Projects is the crux of the production. It's play about brutality, revenge, and justice. And it unfolds with twists and turns. It is intense, dark and thought provoking. The plot is a bit slow to move along in the beginning but it then drops off a cliff and the audience just has to hold on.
The play tells of an older man dressed in military uniform and a Santa hat dropped off at a police station on Christmas Eve. He has a butcher's hook draped around his neck with lawyer Hamilton Barnes's (Andrew Musselman) business card attached. Inspector Lamb (Eric Nyland) calls in Hamilton to see if he knows who the old man is. The Inspector also called in a translator as he and Hamilton only get as far as finding out that the man's name is Josef Dzhbrilovo (John Koensgen). Once Elena (Michelle Monteith) the translator arrives everything changes. It is revealed that Josef was part of the Genocide in Lavinia and the play continues with a sharp edge.
Butcher explores the inhumanity of war crimes and in the concept of having justice or peace but not both. No one in the play is as they seem and the way the play deals with these plot twists is outstanding. The play features strong acting to carry out these twists, but this review will not comment on the acting, as my view was so far from the stage, I was unable to see any facial expressions.
This production is about brutal war acts following brutal war acts and how that brutality takes away what makes us human. The director does take the edge away a bit by slowing down acts of violence on stage with lighting and sound design. The actors slow their movements to take away a bit of the realism. But in the final lethal act of revenge, the action is not slowed down at all. Butcher picks and chooses what violence to expose its audience to.
The fictitious country named Lavinia may be alluding to Shakespeare's Titus Andronicus, and that would be quite fitting as they share similar themes of justice and revenge.
Butcher is not for everyone. It is an intensely dark look at justice in the brutality of war. But it is smart storytelling on a knife's edge and a thrilling production.
Butcher is a World premiere as part of the Enbridge playRites Series of New Canadian Plays. It runs until November 1st. More information is available online.
---