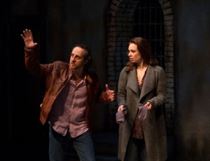 With the recent influx of Syrian refugees there is a spotlight being shone on the immigrant story. Picking up and leaving a place of violence to rebuild in a brand new country and come to call it home is an extremely difficult thing to do. Jonathan Garfinkel's world premiere Cockroach, presented by Alberta Theatre Projects, based on the novel by Rawi Hage is a story of the dark side of being a newcomer.
The narrator (Haysam Kadri) is a thief and a liar. He thinks of himself as a cockroach, crawling through drain pipes and moving around the cold streets of Montreal. He tried to commit suicide and has to go to therapy once a week with Genevieve (Carmen Grant) whom he tries to have fall in love with him. He both loves women and diminishes them simultaneously. He is in love with Shohreh (Daniela Vlaskalic) and struggles with intimacy. He calls his sister once a week and she seems to get him through the hard times in his life.
Cockroach is a bit of a messy, dark tale. The story is told by a narrator who isn't very likable. He steals everything, he breaks into houses and he doesn't want to talk about Tony, his sister's husband. As the layers get peeled away, his story is one of violence and heartbreak and trauma. Home wasn't always this place that was torn apart, it just became that way. Everyone is happy but the Cockroach.
Kadri carries the narrative. He is capable and serious and allows the story to breathe. Vlaskalic portrays the deeply troubled, traumatized Shohreh solidly and Grant's transformation between Genevieve and Tony is amazing. Narda McCarroll's set design is all in gray with a single, cold bed on one side of the stage and a table on the other. Amelia Scott and Jowl Adria created projection design that is smart and fits nicely in the production.
Alberta Theatre Projects' casting decision is a little puzzling. Shohreh is from Persia, but Vlaskalic doesn't look the part at all.
Cockroach isn't a happy story. But it is a story that is well told and needs to be heard. Director Vanessa Porteous allows you to be engaged in the narrative and her direction has the line between fiction and truth blur ever so slightly. This production deftly illustrates this truth: everyone has a story that influences their actions and their attitudes, and the fear of newcomers, that fear of people who are different from who we are can be conquered by learning their story. We are all human in the end, and that's what we have in common.
Alberta Theatre Projects' Cockroach runs until March 19th. More information is available online.
---