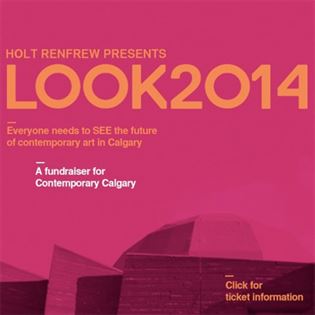 Holt Renfrew presents LOOK2014 at the Centennial Planetarium on November 1st
Calgary's iconic Centennial Planetarium will come back to life on November 1st for LOOK2014—an unforgettable event supporting Contemporary Calgary. Contemporary Calgary's was formed in January 2014 through the merger of the Art Gallery of Calgary, the Museum of Contemporary Art Calgary and the Institute of Modern and Contemporary Art.
Its sights are firmly set on repurposing the iconic Centennial Planetarium to become Calgary's destination for modern and contemporary art. LOOK2014, presented by Holt Renfrew and with support from Enbridge and the Calgary Herald, will be its premiere fundraising gala and the party not to miss this fall.
Partygoers can look forward to a mouth-watering menu by Hotel Arts' Duncan Ly, Calgary's hottest DJ, a percussionist and live vocalist and art installation pieces by artists Dave Brunning.
The event will also be an opportunity for art aficionados to add to their collections and bid on live and silent auction items of top contemporary art and originally crafted travel packages, including original art pieces by acclaimed artists like Chris Cran, Edward Burtynsky and Danny Singer, and vacation experiences to destinations such as the Venice Biennale (the world's most illustrious contemporary art exhibition), New York City with accommodations at the legendary Plaza Hotel and Fogo Island (a contemporary art and architecture destination offshore of Newfoundland and Labrador).
These are experiences one couldn't purchase on their own – they are truly one-of-a-kind curated packages designed specifically for LOOK2014.
VIP ticket holders will be treated to an exclusive experience featuring best-selling author, speaker and urban visionary Richard Florida, in a fireside chat hosted by Dave Kelly. And all attendees can also look forward to two sensational door prizes – a $10,000 shopping spree from Holt Renfrew for premium ticket holders and two tickets to anywhere WestJet flies for VIP ticket holders.
The dress code is cocktail chic. Whether it's that perfect party dress or a well fitted blazer, it's all about looking good but not too formal. After all, this is going to be a space for contemporary art, so plan on looking contemporary too. For more fashion tips for the big night, check out local fashion blog, thatisfancy.com.
The former Centennial Planetarium is itself a work of art and the brilliant contemporary structure, designed in 1967, makes for the perfect setting to host Calgarians for an unparalleled night of art and culture. So don't miss LOOK2014 and discover the exciting future of contemporary art in Calgary and be a part of it all – from the beginning.
Tickets are $250 premium ticket holders and $500 for VIP ticket holders and are available online at contemporarycalgary.com/LOOK2014, by phone at 403.770.1351 and in person at our Stephen Avenue location, Thursdays through Sundays from 12:00pm to 6:00pm.
---