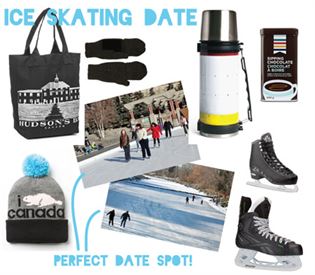 Dealing with a bit of cabin fever? Well, I am sorry to break it to you but winter has barely begun so you might as well start enjoying it. There are plenty of amazing and fun outdoor things to do in downtown Calgary in the winter - many of which are great date ideas as well!
One of the most romantic date ideas is lacing up a pair of skates and going for a skate with your loved one at Olympic Plaza or Prince's Island Lagoon.
The merits of Olympic Plaza's rink rank high, with loads of great restaurants in walking distance to enjoy a meal pre- or post-skate. If you are having a daytime date, you can also pick up hot chocolates or coffees at nearby cafes. The rink is gorgeous with great views of downtown's most spectacular buildings and Stephen Avenue brings plenty of character to your experience.
Prince's Island Lagoon is just stunning when the conditions are right. The lagoon, tree lined brings forth imagery of the Calgary of days gone past. You can practically picture 1920's Calgarians enjoying the exact same past-time as you - although dressed quite differently, of course. The neighbouring River Cafe is an ideal spot to eat, drink and be merry before or after your skate on the lagoon.
If you don't have the goods to get your skate on, there is conveniently a SportChek located right on Stephen Avenue meaning you can hook yourself up with a sweet pair of skates - and one for your sweetheart too!
Where to Shop:
Reebok Ribcor Mens Skates, SportChek
BladeRunner Aurora Womens Skates, SportChek
Alexa Pom Pom, Roots
Oldwina Mittens, Aldo
Fort York Canvas Tote, The Bay
Drake General Store Hockey Thermos, The Bay
HBC Sipping Chocolate, The Bay
---