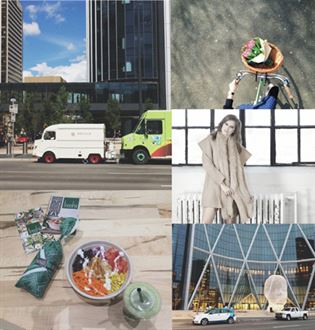 2015 was a very interesting year. There were many changes in our city, province and country. In downtown specifically, we were introduced to more bike lanes, many buildings were built and the foodie scene just keeps getting better and better.
I've also had a great time writing many different blog posts about all of the wonderful things happening in downtown Calgary. I've rounded up some of my favourite posts from the past year that truly focus on some of the amazing stylish, cultural and delicious things going on in the core of Calgary.
This remains a very good winter date idea. Whether you plan to hit the ice at Olympic Plaza or at Prince's Island Park, you are sure to have a great time. Just don't forget the hot chocolate.
This amazing art installation was definitely a highlight last year for Contemporary Calgary. The kaleidoscopic installation was an absolute hit among art lovers and instagrammers alike.
5 Good Reasons to Have a Summer Staycation
Calgary is a wonderful place in the summer - so why bother escaping it? Save the getaways for the winter months and indulge in a staycation right in the heart of downtown Calgary. There is so much to see, eat, shop and do here, you will never run out of ideas during your stay.
Such an amazing addition to our Calgary food truck fleet, Deville's vintage-styled Latte Truck is ideal for downtown's caffeine-hungry clientele. I cannot wait for it to hit the streets again come spring.
Now Open: Freshii On 5th Avenue
A really healthy addition to downtown's grab-and-go lunch scene, Freshii stocks up all sorts of amazing salads, wraps and smoothies for anyone wanting to enjoy a fresh meal of superfoods.
Sentaler Luxury Coats Trunk Show
Sentaler Luxury Coats were the biggest hit of 2015, as Justin Trudeau's wife Sophie Gregoire popularized them in multiple appearances. These classic winter coats are the perfect addition to anyone's wardrobe.
Car2Go Launches 4-Door Vehicles
A great addition to car2go's existing fleet of smart cars, the 4-door vehicles make it so easy for downtown dwellers and workers to drive off in style with 1-3 friends in tow.
---