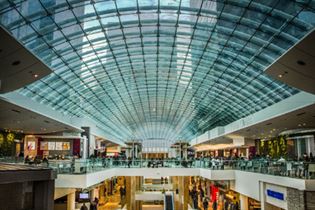 If one of your New Year's resolutions was to shop less, you may want to stop reading now (sorry!). For the rest of you, The CORE has an awesome selection of stores to help support you in your resolutions – and we all know that sometimes we need a little extra support.
'Eat Healthier': There is no reason that your healthy food resolution should mean bland, boring meals. Stop into Oil & Vinegar on level one and explore their vast array of delightful culinary products. You can taste test just about everything they have, and decide what you'll be adding to your pantry. Olive oil with black truffle will add some fancy feeling flavours to any dish, while some strawberry vinegar will have you actually looking forward to your lunchtime salad.
'Score That New Job': We're told that we should dress for the job that we want to have. So, why not invest in yourself, and your look? Often the best option is a classic statement piece that will make you feel great and can be worn many different ways. A great blazer from Holt Renfrew will surely give you the confidence to nail that interview.
'Travel More': The fine folks at Flight Centre can get you hooked up with flight deals, vacation packages, add-ons and more. Easily compare destinations, or get advice on locations that will best suit your dreams, whether they be culinary, adventurous, or luxurious. Find Flight Centre on level one.
'Manage My Money Better': Whatever your income level, having a good plan goes a long way for this goal. Book an appointment with a financial advisor from First Calgary Financial on level one to give you an overview of where you're at, and where you'd like to be. They can take you over the best options for your goals, whether that's opening an RRSP or a basic savings account.
'Read More': Of course the Indigo Spirit shore on the main floor (level one) is the place to go for all your literary needs. Find inspiring new releases, proven best sellers, and staff recommendations for your reading pleasure. They also have a solid magazine section if you're looking for a little less commitment.
'Spend More Time with Friends': In our fast paced lives it can be challenging to find time to connect with our friends. The CORE is a great, accessible place to meet for lunch or after work. Grab a meal or snack from the food court (Bento Sushi for a quick, healthful lunch or Crepe De Licious for an after work treat, among other great choices!) and wander into Devonian Gardens to find a place to relax and chat while you nosh. Maybe use some inspiration from your other resolutions to help you with this one – start a book club!
'Take More Time for Myself': Again, something that we often struggle with when we feel like there's just too much on our to-do lists that relaxing is difficult. Make the most of the downtime that you do have – pick up a few items from the Rocky Mountain Soap Company's fabulous Aromatherapy line to help you de-stress. A tension relief aromatherapy stick or a stress relieving eye pillow will help to make your 'me time' truly relaxing. Find the Rock Mountain Soap folks on level three.
What other resolutions did you make this year? Perhaps the CORE can help!
---
(Photo credit Ernesto Tolentino via Flickr used under creative commons license)
---