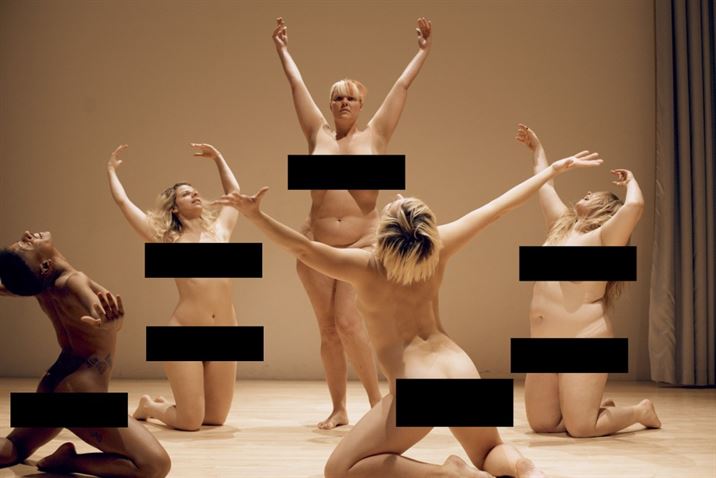 The first thing that will strike you about Young Jean Lee's Theatre Company's Untitled Feminist Show is the lack of costuming. The cast of five women and one trans person spends almost the entire show completely naked. And that's startling even when you're expecting it. Because, whether you know it or not, we all have these opinions and notions about the female body. Watching the cast of Untitled Feminist Show perform for an entire hour without a stitch of clothing provokes the viewer, almost without us knowing.
But this production is not just provoking to be provocative. It is smart and funny, as well as thought provoking. It combines contemporary dance with vignettes with cabaret. It is a series of pieces that either function to make the audience laugh and therefore be more comfortable, or to probe the audience to think deeper about our own preconceived notions on feminism and women.
The production features a skit about a witch who freezes unsuspecting women so that her dog can eat them. A contemporary dance sequence that illustrates the many aspects of being a working woman. A song performed entirely by saying the world 'la.' A very funny comedy sketch that is based on porn. A slow motion fist fight, complete with a cheering squad. And dancing to heavy metal. It's all performed naked and the thing about this play is that after a while, the nudity is just a costume. You begin to wonder if the cast on stage is baring all, or if it's the audience who is being asked to bare all.
Untitled Feminist Show is entertaining and smart, though features some odd dance sequences as time. The production also features some talented performers, especially Amelia Zirin-Brown who transforms on stage and has outstanding comedic timing and Desiree Burch who has priceless expressions.
This show is not for everyone. If you are not intrigued by contemporary dance and cabaret, Untitled Feminist Show might be too much. But if you're uncomfortable with nudity, maybe this is the play that will push your boundaries.
Untitled Feminist Show is presented by Theatre Junction & One Yellow Rabbit Performance Theatre as part of the High Performance Rodeo. More information is available online.
---