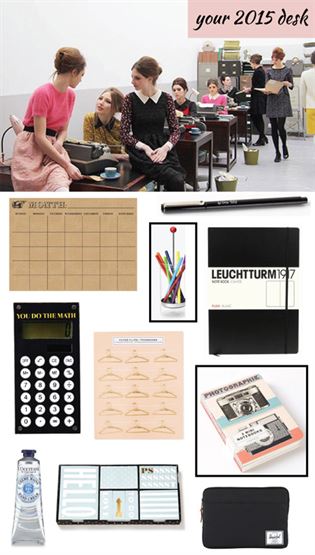 We've just about closed in on the first month at 2015, meaning if those goals and resolutions haven't taken hold yet, you've got a bit of time to rectify your situation. If you are like me, you may be staring at a desk full of papers that need to be sorted, notes to be filed and to-do lists upon to-do lists. One of my favourite ways to kickstart the new year is to give my desk a complete overhaul and "make-over" my organizational and inspirational materials.
Thankfully, downtown is the best place to find great organizational tools and just generally cool desk accessories. Between great local shops like Madison Page (located on the 2nd floor of 5th avenue place) and bigger stores like Indigo, I managed to find some awesome goods to spruce up your workspace this year.
Where to shop:
Fill your stylish MoMA Popup Pencil Holder from Madison Page with plenty of Black Le Pens (Papyrus).
Keep track of your meetings and lunch dates with this minimalist Kraft Monthly Calendar from Indigo and add updates with the Kate Spade Sticky Note Set from The Bay.
You can never have too many notebooks - at least that is what I always say. Use the Leuchtturm Large Notebook for your big ideas (Madison Page) and these Vintage Camera Mini Notebooks (Papyrus) for little big ideas!
Keep your desk quirky with the You Do The Math Calculator (Indigo) and these Paper Clip Clothes Hangers (Indigo).
Stash your e-goods in the Zoalia Herschel Tablet Case from Little Burgundy and keep some Shea Whipped Hand Cream on hand for dealing with Calgary's chronic dryness, from L'Occitane.
---