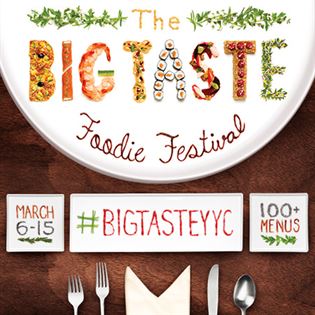 For some, The Big Taste is the happiest ten days of the year. This year, we're looking to make things ever happier with the introduction of Big Taste Libations!
Big Taste veterans already know the festival is a 10 day celebration of Calgary's culinary scene, where downtown restaurants offer fixed price dining, and host a number of interesting culinary events. In order to mix things up a little bit, we've decided to tackle happy hour as a part of what makes Calgary's culinary scene so much fun.
We've partnered with three great locations on Stephen Avenue to create a unique happy hour experience that will remind you of what you love about after-work drinks and appetizers.
The Big Taste Libations will take place from 4 to 6pm at the following locations:
March 9th - The Bank and Baron P.U.B

The Bank & Baron, a traditional public urban bar occupying the reclaimed Bank of Nova Scotia building on Stephen Avenue. (click to book your table)

March 10th - Mango Shiva

Libations with a twist! Excellent Indian cuisine and casual, contemporary flare make Mango Shiva the perfect place to spend happy hour with an exotic cocktail or craft beer in hand. (click to book your table)

March 11th - The Unicorn

The Unicorn Pub has been one of Calgary's favorite spots for over 30 years. Enjoy The Big Taste Libations during happy hour at this historic landmark. (click to book your table)
Each Big Taste Libation event will feature "one-night-only" happy hour prices, drinks and appetizers, which will be announced prior to the event. If you snooze, you lose so be sure to book your group on The Big Taste website as these events are subject to capacity. That being said, the three locations we've partnered with already have a great selection of happy hour fare so we recommend trying one or all three during The Big Taste, or any time you're looking to celebrate another long work day!
For more information on The Big Taste 2015, please visit the official Big Taste website or see our blog post explaining the rest of The Big Taste.
We're all over social media! Use the hashtag #BigTasteYYC when you're dining or just out for happy hour and you could win a Big Taste prize package. You can also follow us on Twitter @DowntownCalgary, visit us on Facebook, follow us on Instagram and repin us on Pinterest!
---