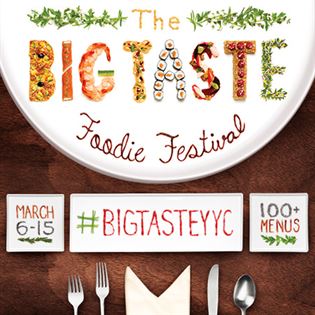 Last week we teased that there was a new way to enjoy The Big Taste in 2015, and now we're ready to spill the beans.
Our friends at Mango Shiva, The Bank & Baron and The Unicorn Pub have joined us in presenting Big Taste Libations.
Put simply Big Taste Libations is like Happy Hour for Foodies. Chefs at all three restaurants have prepared special appetizer menus and drink specials to celebrate those crucial few hours between the end of the work and the beginning of the dinner hour. Here's the menus and deals being offered for this exciting new event:
March 9th – The Bank and Baron P.U.B (4pm to 6pm)
Blue Crab BLT - $10 - Soft shell blue crab with smoked bacon, vine ripened tomatoes, butter leaf lettuce and lemon  caper aioli served on a toasted brioche Kaiser.
Curry - $10 - Chef's curry inspiration served with basmati rice and naan.

Drink Items:
Goose Island Honkers- $5 16oz Pints
Bottles of Village Wit- $5 bottles
(click to book your table) (587) 293-9688
March 10th – Mango Shiva (4pm to 6pm)
$5 TANDOORI BITES
CHICKEN Mint Marinated BBQ Thighs
CHICKEN Butter Chicken Naacos
BEEF Herb Crusted Kebabs
FISH Basa Pakora Tacos w/ Roasted Corn Salsa
VEG Chickpea Ceviche w/Pomegranate & Crispy Wontons
VEG Yam, Spinach, & Cauliflower Pakoras
PRAWNS Tandoori Tiger Prawns w/ Mango

Drink items
Village Brewery Blonde or Brunette $5 pint
Shiva Cocktails $7
BC Wines $5 / $25 bottle
(click to book your table) or call (403) 532-8980
March 11th – The Unicorn (4pm to 6pm)
The Unicorn Pub is doing something a little bit different. The iconic pub will be hosting a throwback celebration to 1979 (the year they opened). The Unicorn will be serving 'Happy Meals', offering throwback pricing, and samples of Village beer.For those that didn't hear the news, The Unicorn will be closing in 2015 after 36 years of Stephen Avenue memories. This is a way to remember the establishment that has left a lasting mark on Stephen Avenue, Downtown and Calgary as a whole!
(click to book your table) or call (403) 234-8816
We suggest making a reservation by following the link in the description, or calling the location directly.  You don't want to miss out on these great Big Taste deals.
---
For more information on The Big Taste and to see the entire list of fixed price dining options happening between March 6th and 15th please visit BigTasteCalgary.com
Looking to win big? Learn more about the #BigTasteYYC contest
You can follow us on social media:
---