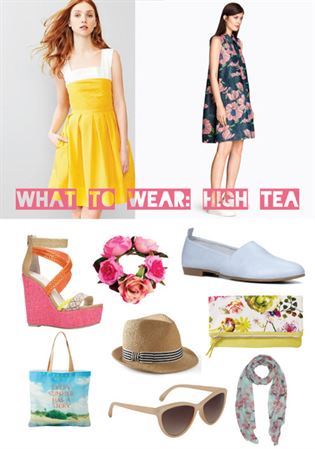 You are invited! An amazing day out for girls to put on ridiculous hats, garden party dresses and fancy gloves…
The town is abuzz about the Cork & Canvas High Tea Fundraiser that the CPO is hosting on Saturday, March 21 at the Fairmont Palliser. Not only is it benefitting an important part of our arts community - the Calgary Philharmonic Orchestra, it will also be a fantastic afternoon filled with delicate treats, afternoon tea and a fabulous fashion show.
With the incredibly warm weather we've been experiencing and the upcoming High Tea in Style at The Fairmont Palliser, there are so many reasons to start working on your spring wardrobe. As we've seen in this season's trend reports, florals are back - in a big way! And as it happens, florals are a perfect place to start when styling your outfit for the high tea. Pull out the fascinators and floral crowns, the pastel flats and the colourful wedges. Celebrate spring in a big way!
High tea and high fashion come together at this elegant afternoon affair. Put on your finest hat, fancy gloves and stylish shoes and join the fashion parade. You'll want to look your best at this fabulous event so I've rounded up my favourite finds, sourced all around downtown Calgary at CORE Shopping.
High Tea in Style
Saturday, March 21 – 2pm
The Fairmont Palliser 133 9 Avenue SW
Buy Your Tickets! 
What to Wear:
Fit & Flare Sundress, GAP
Sleeveless Floral Dress, H&M
Mel Fedora, Banana Republic
Wynonah Wedge Sandal, Aldo
Artemia Flats, Little Burgundy
Floral Hair Elastic, H&M
Gallery Tote, Indigo
Garden Floral Foldover Clutch, Indigo
Trimonte Scarf, Spring
Legalesen Sunnies, Spring
---