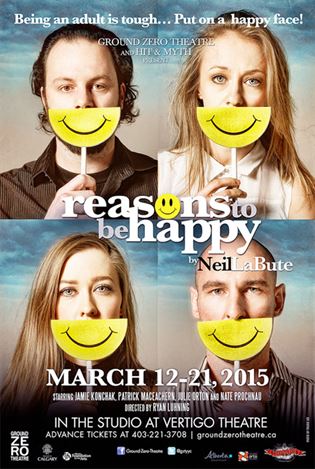 Back in 2010, Ground Zero Theatre put on Neil Labute's Reasons to be Pretty, a heartfelt, strong production that won multiple awards. Five years later, they are producing the sequel, entitle Reasons to be Happy, starring the same cast except for one. This play is a look at the same characters, three years later and we learn that the more things change, the more they stay the same.
The play opens to Greg (Pat Maceachern) and Stephanie (Jamie Konchak) fighting in the parking lot of Costco. Stephanie has just found out that Greg (her ex-boyfriend) is dating her good friend Carly (Julie Orton) and even though Stephanie is married, she has come to confront Greg about it, in the parking lot. There is lots of screaming and swearing and Stephanie certainly comes off as crazy. This scene plays out similarly to Reasons to be Pretty where Greg and Stephanie have a stand off in a food court. The play cuts to the warehouse where Carly works security and Greg comes to pick her up. Carly ex-husband Kent (Nate Prochnau) works in a different warehouse and stops by to talk to Carly. Tension runs high between them, as Kent forgets to ask about his daughter and has trouble keeping his temper in check. The entire narrative builds up to the scene where Greg and Stephanie meet up and she expresses how she wants to get back together with him.
Reasons to be Happy doesn't read as well for someone who hasn't seen the first play, Reasons to be Pretty. The dynamics of the characters makes a little more sense having seen the first part of the story and this makes this production a bit harder to evaluate as a stand alone. The play hinges on Greg and him making a decision about who he wants to be with and his strong desire to not upset anyone. Labute goes deeper into these characters who show their deep flaws within the play.
Carly is still the one who is treated badly but at least this time she isn't naive about it and winds up knowing that she deserves better. Stephanie is still chasing what she thinks will make her happy and at this moment it is Greg and Greg is still in that space of not ever making a decision. Watching the narrative hinge on him not making a decision to move the dramatic action forward makes Reasons to be Happy a bit slow.
It's a conversation between Trent and Greg that explores a little more than 'who is with whom' where Trent talks about when he's doing something stupid, at least he is doing something. Trent is all about doing before thinking and acting on pure emotion. It isn't working for him, but he's at least starting to explore something more in life.
This play has some very strong performances, especially from Maceachern and Orton. The scenes are sharp and the sound design creates a great transition between them. It's just that Reasons to be Happy doesn't feature that compelling a story. It's the same story as Reasons to be Pretty with slight changes. The more things change, the more they stay the same.
Ground Zero Theatre and Hit & Myth presentation of Reasons to be Happy runs until March 21st. More information is available online.
---