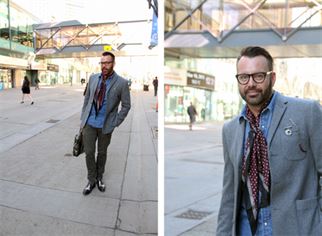 He has an impressive list of clients and experience, but it's his personal style that really intrigues me - and the lovely human who wears the interesting clothes! Jason Krell's personality and style speaks volumes, and he's naturally that person you really want to get to know. Aside from running a Communications Company, Krell is also half of the dynamic duo, The Style Guys - which only means one thing - I now need to snap the other style guy to really complete my Street Style Huntress contributions!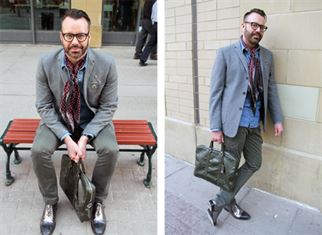 How would you describe your personal style?
Versatile. I'm attracted to a lot of different things. I like to take risks with fashion but I'm not a slave to it either. I dress how I feel on any particular day, less so about where I will go and who I will see. I like to mix it up and am lucky enough to work in an industry where there are fewer rules.
What are some of your influences when it comes to fashion?
In my (much) younger days I worked as a model in Europe where I was introduced to top quality clothing. It taught me the importance of buying the best quality you can afford over simply having more. Sure, I like to buy inexpensive, fun, on-trend pieces that I can wear a couple times and forget about, but I'm not overly influenced by what mannequins are wearing.
What are some of your favourite stores and shopping destinations in Downtown Calgary?
I have a hard time walking past the Fluevog store without stopping in! Otherwise, Brass Monocle, Holt Renfrew, Harry Rosen, Kixs.
What are some of your favourite trends right now?
I love geometric prints and florals. Extra points if you can mix them up and wear them in an interesting way. I don't like being too matchy-match. I'm a big fan of designers like Mr. Turk (based in Palm Springs, my favourite place to visit), who mix patterns and prints recklessly.
What fashion advice would you give to others?
Even if you're in a corporate / conservative work environment, take the occasional risk. Don't be afraid of colour and pattern. And if you see something you want to buy but don't know where to wear it, buy it-then find somewhere to wear it.
Why do you choose Calgary as your home? Do you plan on staying here, why/why not?
Calgary is a great place to be an entrepreneur because people aren't all completely jaded here. Calgarians support each other, are optimistic, and believe that there is room for everyone to be successful.
Will I stay here? I will always have roots in Calgary but over the years I'm finding myself spending more and more time in warmer climates.
Tell us more about your business. What are some of your future aspirations?
I'm so proud of At Large Communications and my three amazingly talented partners. We apply business savvy, solid strategy and creative execution to every project, inevitably taking our clients' brands beyond anything they ever expected. And we have a lot of fun along the way. I see a future where At Large Communications works with even more global brands. Our work stands up next to any international agency.
How does your work influence your personal style?
Being a 'Style Guy' in addition to a business owner has its advantages; my clients expect that I may turn up in something surprising. It doesn't matter to them anyways. They hire us because they want creative thinking, professionalism and a team that will deliver. It takes more than a designer bag or a big watch to get the job done.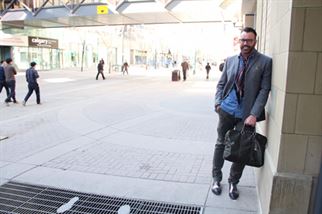 ---