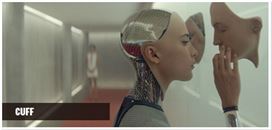 Calgary Underground Film Festival
April 13th to 19th - The Calgary Underground Film Festival (CUFF) is committed to showcasing ground breaking, provocative independent film with an emphasis on emerging genres. They strive to show works that defy convention in form, style and content, screening a wide spectrum of contemporary works in a variety of categories including narrative, documentary, animation and shorts.
Get your tickets now for an entire week of groundbreaking programming at the Globe Cinema.

Becky's New Car
April 7th to 25th - Becky Foster is running on cruise control in this hilarious, life-affirming comedy. With a marriage that's stuck in neutral and a mediocre day job, she dreams about shaking up her humdrum routine. But when a handsome billionaire sweeps her off her feet and offers her the keys to a whole new life, Becky must choose which route to take. Roll the top down, turn on the radio and buckle up for this laugh-out-loud joyride through the twists and turns of one woman's midlife U-turn.

April 9th - Half a million people descend upon a tiny Serbian village for the 50th anniversary of the world's largest trumpet festival. Brasslands chronicles the cultural and musical collisions through the personal journeys of 3 musicians - American, Serbian, Roma - whose lives are bound to Balkan brass for very different reasons.
FREE - Two screenings at 6:30 pm and 8:30 pm

April 9th - A blessing or infernal curse? The magical glowing Firebird of Russian folklore presents this dilemma to its owner, but this wildly successful breakthrough orchestral work written by Stravinsky for ballet and orchestra has been bewitching audiences for over 100 years. Can you resist The Firebird's seductive spell - discover for yourself at Rush Hour!

Contest runs until April 10th, Parade takes place on April 17th - The 3rd annual POW! Parade of Wonders is coming to Downtown Calgary on April 17th, 2015 and kicks off at 10:45am.
New this year is the ability to watch the parade from bleachers set up on the 300 block of Stephen Avenue, as well as having a guest MC from the Calgary Expo to give a play-by-play and to give out prizes! Seating is on a first-come-first-served basis so get down early. Want VIP seats? You can enter our contest to win a pair of VIP bleacher seats by leaving a comment on our blog telling us what you would dress as if you were marching in the parade.
Contest ends April 10th, 2015 at 5pm
-
This is the blog version of our weekly events e-mail newsletter. Sign up for our newsletter by clicking here. We never send spam, and you can easily opt-out any time.
---