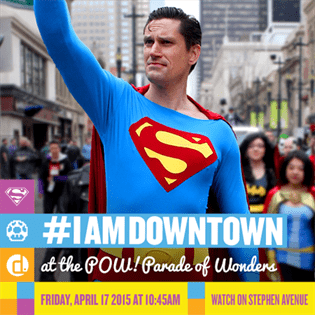 The 3rd annual POW! Parade of Wonders is coming to Downtown Calgary on April 17th, 2015 and kicks off at 10:45am.
New this year is the ability to watch the parade from bleachers set up on the 300 block of Stephen Avenue, as well as having a guest MC from the Calgary Expo to give a play-by-play and to give out prizes! Seating is on a first-come-first-served basis so get down early.
If you can't get a seat on the bleachers, there will be a number of great places to watch the parade down Stephen Avenue from 3rd street SW all the way to Olympic Plaza.
Not familiar with the POW! Parade of Wonders?
The POW! Parade of Wonders, or POW Parade for short is Western Canada's only cosplay parade and 2015 marks it's 3rd year of bringing the best in cosplay to the streets of Downtown Calgary for a very unique event! The parade starts at Eau Claire plaza and makes it's way up 3rd Street SW and west along Stephen Avenue (8th avenue SW).
Not familiar with cosplay?
Cosplay, which is short for Costume Play is the art (yes it's an art) of crafting and wearing intricate costumes that celebrate your favourite fictional characters.
Check out last year's video of the 2014 parade which featured parade marshall Mayor Naheed Nenshi, Anthony Daniels (aka C3P0) and cast members from the Sons of Anarchy.
Note: The contest is now over. If you've won we've sent and email to the address left in the comment section. No further comments will be selected.
–
Want to march in the parade? You have until April 12th, 2015 to register.
---