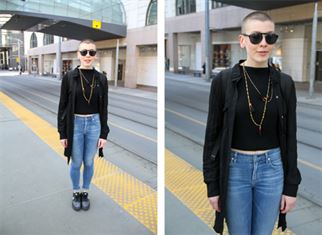 I've become so accustomed to being alert for cool and distinct style, that I've just naturally become a people watcher, no matter what I'm doing or where I'm going. Even when I'm just waiting for the train, or running some errands, I'm on the lookout. I love to see how people carry themselves and what they choose to wear, and I really enjoy photographing stylish people while I shop for my own personal look, and this month,
I did just that - hit up some fun stores and captured some of the lovely ladies at these establishments. And a toddler, because as we all know, sometimes style starts really early and I couldn't be happier than when I see that!
I also did some city living people watching - I captured some more casual and in-the-moment images as these people went about their everyday. The best part - it's starting to get nice out and I was able to comfortably capture Calgary's style, only making me more excited for the summer months ahead.
---