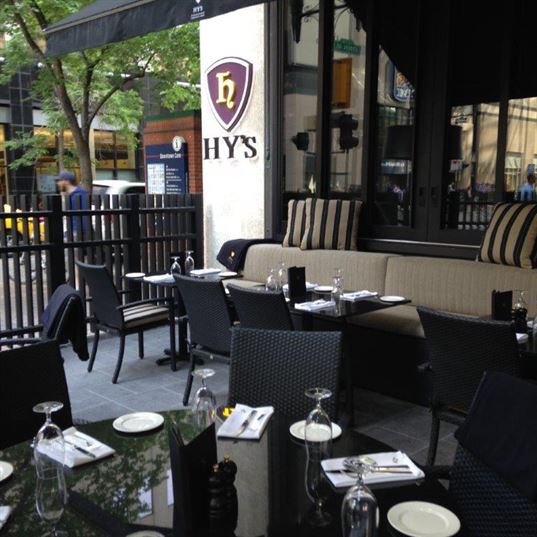 Need an excuse to indulge in Hy's new spring cocktail menu and canapes while being serenaded by Crystal McGrath? Then you won't want to miss our upcoming Downtown Libations event on Wednesday, April 27th from 4:00-6:00PM at Hy's Steakhouse on the corner of 8th Avenue and 3rd Street SW.
The Downtown Libations series, which takes place on the last Wednesday of each month, is shining a light on the fabulous Happy Hours all over the downtown core. This month, Hy's will be featuring the following $7 cocktails:
Classic Old Fashioned – Chairman's Select, angostura bitters, orange and lemon peel
Blueberry Lemonade – Hayman's Sloe, Grey Goose Citron, rosemary and blueberry cordial
Harry Berry – Goslings Black Seal, Cointreau, kiwi puree, ginger beer, lemon juice
Spiced Mango Bourbon Smash – Jim Beam white, mango puree, honey, habanero syrup
Carnaros Bellini – Sokolova apricot brandy, Phillips peach Schnapps, Domaine Chandon, pear puree, rhubarb bitters, red wine
PLUS - featured canapes: Sautéed garlic shrimp, ahi tuna, Hy's Meatballs with BBQ sauce, prime beef sliders, and chips and dip.
Exclusively for Libations, local country artist Crystal McGrath will be performing accompanied by Darren Gilbert.
You can also choose from their regular Happy Hour menu, which is available from 3-6pm Monday-Friday, which includes 40% off Champagne and sparkling wine!  Well Highballs (1oz) for $5.25. Manhattans (2.5oz), French 75 (1.5oz), Whiskey Sours (1.5oz), or Boulevardiers (2.5oz) all for just $8, and draught beer (14oz) for $5.
If you need a little snack, they've got some awesome pricing on that, as well!  Fresh shucked oysters at $1.5 each, pan fried oysters for $1.5 each, and chips & dip for $1.5.  If you need something a little more substantial you can check out the Fish Tacos for $13, Hy's Prime Beef Burger for $13, Meatballs for $14, Black & Blue Ahi Tuna for $14, and New York Steak Sandwich for $20.
If the weather stays nice you can hit up their patio, where you will still be able to hear the live music.
You can also enter to win a $200 gift certificate for Hy's, draw only for those in attendance.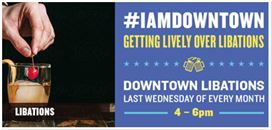 Libations is a monthly happy hour gathering. Each event will take place the last Wednesday of each month from 4-6PM at a different location Downtown and will feature special happy hour promotions and surprises.  Mark your calendars early so you don't miss out on these fantastic events!
Upcoming Downtown Libations events:
Wednesday, May 25th at the Fairmont Palliser's Oak Room Lounge
Wednesday, June 29th at 4th Avenue Keg Steakhouse & Bar
Wednesday, July 27th at National 8th Rooftop Patio
More details on the Downtown Libations series can be found here.
If you'd like more info on upcoming events sign up for the Downtown Calgary Events Newsletter here.
---