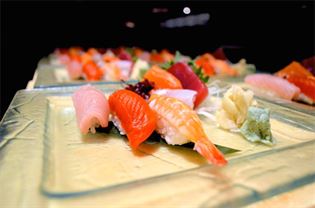 The Big Taste is back at Ki Japanese and this year's menu is tastier than ever. If you haven't been to Ki before, you are in for a big treat. This gorgeous restaurant nestled just blocks from the Bow riverfront, you can enjoy some deliciously fresh seafood and some incredible dishes unique to Calgary. I had the opportunity to preview the 2015 Big Taste dinner menu and I have some excellent things to report. Course by course, this menu truly introduces you to the amazing things the chefs do at Ki.
Course 1
Mixed Greens Salad
Goji berries, grilled Asian pear + apple vinaigrette
This salad is absolutely beautiful to look at. I have to say, salads usually aren't my first choice when I pick up a menu but this one blew my mind. The combination of flavours is stunning and the apple vinaigrette is one of the most unexpected flavours to hit your mouth. A+!
Course 2
Sushi + Sashimi
Maguro, Sake & Tai Sashimi + Ebi, Binnaga+ Benizake Sushi
This was my favourite course of the meal, mainly because I love sashimi and sushi so much. The fish was melt in your mouth fresh. I was so impressed with the quality of the fish and the overall presentation of the dish. A++!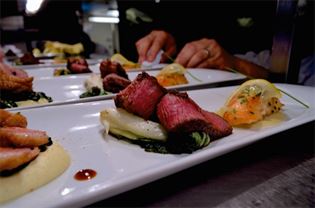 Course 3 - Choice of Entrée
Seared Arctic Char
or
Seared Brome Lake Duck Breast
or
Grilled Flat Iron Steak
Now the third course will definitely be a difficult choice as you decide on your entree. I got to try a small portion of each choice and they were all splendid. If I was going to choose one though, I would definitely go with the Seared Brome Lake Duck Breast. I don't have much experience eating duck but I couldn't believe the flavours of this dish - it immediately became my favourite! That being said the Arctic Char and the Grilled Flat Iron Steak were both delicious. A+!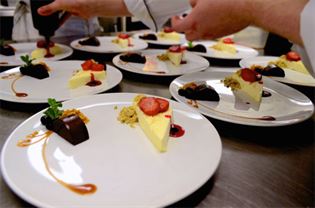 Course 4
Dessert Plate
Chocolate Truffle Cake + Yuzu Semi Fredo
The dessert plate was beautiful, simplistic and delicious. It was definitely a great finish to a delightful dinner. And for only $35 for the whole thing, you are certainly getting a whole lot of bang for your buck! You can also try out a $25 drink pairing menu with this menu. A!
Indulge in the Ume Old Fashioned cocktail available on Ki's cocktail menu or make it at home with this recipe:
Ume Old Fashioned 
1 3/4 oz Ume Plum
1/4 oz Jim Beam 
Orange Bitter and garnish with Orange Peel
-
Like what you see? You can make a reservation with Ki at www.kijapanese.com or call 403.264.1133
___
The Big Taste starts on March 6th (March 6th - 15th) - you can view the menus of all participating restaurants and make reservations at BigTasteCalgary.com

Use #BigTasteYYC on Instagram and twitter to be entered to win great foodie prizes!
---