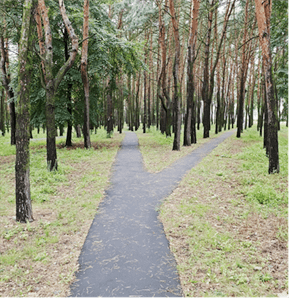 Are you where you want to be professionally? Have you reached a fork in the road and can't make a career decision? Do you have a career path?
What is a career path?
A career path can take many forms, and much depends on where you are in your professional life. Are you a new grad just starting out or a seasoned pro looking to re-ignite a passion? Are you hoping to climb the ladder in your current organization or longing to explore a new field?
Some companies implement career path programs to help employees develop in the company. Others don't. Regardless, it's beneficial to take charge of your career direction. Your career is one of the greatest investments you can make.
Create your career path
A career path requires assessing personal qualities, stating a goal and outlining goal attainment strategies.
1. Evaluate Where You Are
Are you happy in your current position? Do you see potential with your company? Are your skills relevant?
Honestly assess your purpose, needs, interests, strengths, accomplishments and job perks and stressors. Identify skills you use in your job, skills you have that are not used, skills you'd like to develop further, and skills you'd like to acquire.
Describe your job including skills required, tasks performed and services or products provided. Pinpoint ways by which you can eliminate disliked tasks and add more interesting duties.
Specify your value to the company such as money you've made or saved. Identify your current career path in the company, and the industry's economic outlook.
On the basis of this evaluation, indicate whether you want to stay or look for something new.
2. Research options
Explore jobs at all levels within and outside your company. Consider moving down the ladder to learn different skills and take advantage of new opportunities. Explore lateral positions by cross-training on other job functions, or creatively redesign your job to satisfy unmet needs, expand enjoyable tasks and create value-added.
If you can't attain your desired path in your company, consider relocating to a different organization. Other options include taking temp positions or volunteering to research new options, returning to school, establishing your own business or taking time out. Which path is best for you?
3. State career goal
Indicate the position you want and why you want it. Describe job tasks, competencies required, personal characteristics and desired lifestyle. Envision how the occupation might change within five years.
On paper or computer, outline a timeline including required activities. Identify perceived barriers and how you'll overcome these. Know sources of support and income. Every day, engage in activities that move you forward. Modify goals as circumstances change.
4. Market yourself
Promote ideas and share goals with superiors. Demonstrate what you can do to help the department manage uncertainty, reduce costs or generate revenue, but proceed cautiously with suggestions.
Become involved and visible. Volunteer for special projects, committees and mentor.  Write articles for industry magazines. Speak at professional functions. Obtain additional certification. Build partnerships. Help colleagues attain goals. Polish political skills. Play by company rules.
Use your network. Whether it's talking to someone in a new field or putting out feelers for job opportunities, your network is an excellent resource. Attend professional meetings, network online with members across the globe. Ask for guidance from more senior colleagues.
5. Continue to learn
Because many jobs may change or disappear in your career span outline a tentative learning schedule to acquire needed competencies. Work with superiors to articulate career paths and required skills. Know how to acquire new skills while performing your current position.
Create new opportunities in your company. Experiment with different methods. Investigate challenges in growing fields as such as telecommunications and environmental industries.
Keep abreast of changes in the global market place. Learn how resilient, Questers, described in the award-winning Questers Dare to Change Your Job and Life map their career paths. (www.questersdaretochange.com)
Editor's note: this has been a guest blog post by Dr. Carole Kanchier she is a career and personal growth expert, is author of the award-winning, groundbreaking book, Questers Dare to Change Your Job and Life (2014). Visit her website: www.questersdaretochange.com or send her an email: [email protected]
---