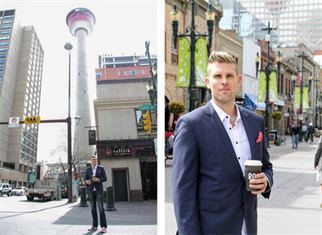 He was recently featured in Sharp Magazine as part of a profile on local tastemakers, he's an Avenue Magazine Top 40 Under 40, and he's been named as one of Alberta's Top 20 Entrepreneurs by the Globe and Mail. So it's only fair to state that his credentials are more than just impressive, and his style certainly speaks for itself - and it appears that Pieter Boekhoff is only getting started!
As Avenue Magazine stated, "by co-founding AcceleratorYYC, the city's first co-work space dedicated to mentoring local tech entrepreneurs, Pieter Boekhoff is growing Calgary as a technology hub." And that's before we even look at his latest venture, the iMirror, which is an interactive wall-mounted mirror, which acts as a virtual concierge in a room. But I'll just allow Boekhoff to explain further and tell you all about his stylish ways too!
How would you describe your personal style?
Unique. Every day is different for me and I think that's really reflected in what I'm wearing. If I had to sum it up, I would describe my style as comfortable, confident and bold – but always coordinated.
What are some of your influences when it comes to fashion?
I was recently featured in Sharp Magazine as part of a profile on local tastemakers and because it was in collaboration with Nordstrom's I got to sport Hugo Boss for the shoot. That was all it took to convert me. Wearing Hugo Boss just makes you feel so polished.
I also like wearing Indochino because it really personifies me. The brand has startup roots and they use technology to make these incredible custom tailored suits, blazers, shirts and pants. Wearing labels that aren't mainstream also means you generally don't have to worry about running into other people wearing the same thing.
What are some of your favourite stores and shopping destinations in Downtown Calgary?
Because I love suits and blazers, Harry Rosen would have to be one of my go-to spots in the downtown area.
What are some of your favourite Downtown YYC spots?
When I have an afternoon or evening to sneak in a few drinks with friends, Local is a great place to meet up. The laid back atmosphere makes this an easy place to unwind.
What are some of your favourite trends right now?
I love adding cool accessories. Colourful pocket squares, funky socks and cool shoes can really add a fun element to a classic looking suit.
What fashion advice would you give to others?
I really respect people who aren't afraid to experiment with fashion, so my advice would be this: Don't be afraid to stand out from the crowd. The world would be a pretty boring place if we all dressed the same.
Why do you choose Calgary as your home? Do you plan on staying here, why/why not?
In Calgary there's a real sense of community and I love the entrepreneurial spirit here. This city has so much to offer and I'm excited to see where we'll be in the next 5 years. So yes, I definitely see myself staying.
Tell us more about your business. What are some of your future aspirations? 
As a serial entrepreneur I always have a lot of projects on the go but right now my company Nobal Technologies is one of my main projects. I founded the company because I was inspired to create culture driven technology and right now, we're seeing a lot of momentum with our flagship product, the iMirror.
Essentially, this product is designed with an interactive touch screen that allows you to get caught up on news, check out your favourite social apps and listen to your music, all in the process of getting ready – and that's just a few examples of what this mirror can do.
It's already catching on in our test market and judging by the early feedback I think its safe to say that you'll soon see the iMirror in some pretty major U.S. hotels and Canadian retail shops.
How does your work influence your personal style?
Working for yourself allows certain freedoms with what you're wearing to the "office" but I tend to dress business casual most days. A nice fitting blazer, a bright coloured v-neck and some fashionable footwear is a versatile look that simultaneously works for meetings, being in a more laid back co-working environment and heading out for the evening right after work.
---