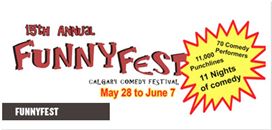 May 28 to June 7 - The 15th annual FunnyFest Calgary Comedy Festival, May 28 - June 7, 2015, hosts non stop belly laughs with 70 awesome stand up comics and variety performers, over 11 nights! EACH COMEDY EVENT FEATURES: Minimum 4 to 8 performers per show.

May 27 - Catch the cast of Dear Johnny Deere performing works from the new Theatre Calgary production on Stephen Avenue.
The Fred Eaglesmith Musical by Calgary playwright Ken Cameron is in it's final week of performances in the Max Bell Theatre at Arts Commons. Based on the songs and lyrics of Canadian singer-songwriter Fred Eaglesmith, Dear Johnny Deere takes a look at the spirit, loves and struggles of life in rural Canada.

May 29 - 30 - Britten's dramatic, North Sea-inspired Interludes and the delightful Fantasia on Greensleeves by Vaughan Williams stylishly encapsulate the essence of England, alongside Elgar's autumnal, romantic Cello Concerto, and the colourful Scottish Symphony of Mendelssohn.

May 27 to June 6 - Before iPhones, Tinder and 50 Shades of Grey a movie took the world by surprise. That movie was Good Will Hunting. How on earth did two best friends from Boston write a movie that swept the '97 Oscars? Wouldn't you like to know.
A "wicked smaht" script written by Mindy Kaling (of The Mindy Project and The Office) and actor Brenda Withers.
Starring Kristen Padayas as Matt Damon and Carly McKee as Ben Affleck.

May 29 - Come and climb the Coors Light Summit to win some sweet prizes. You are officially invited to Calgary's Coors Light Summit Party hosted at The Bank and Baron Pub on
Friday, May 29th, 2015. Come crack a cold one as we shut down Stephen Avenue (LITERALLY) and climb the 50ft wall to win some pretty sweet prizes including a 10 1/2 ft Pelican Paddle Board. Party starts at 3:30pm
---