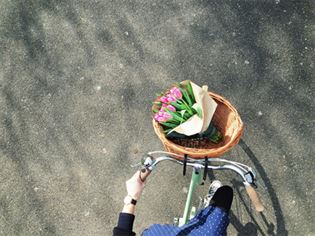 Most summers I am not in really any rush at all to leave the city. It is the time of year that Calgary finally gets really great weather and there is a lot of fun (and free!) stuff happening round the clock. Post-Stampede, I totally recommend taking a staycation in Downtown Calgary to reconnect with your city and experience it with a whole new perspective. I say post-Stampede because you'll have a really hard time finding a hotel room or condo rental during that time - the city pretty much sells out! But the rest of summer is ideal for a staycation - you'll mix in with the tourists but have the freedom to walk around downtown without going to work. Win, win. Now, let's get to those five amazing reasons why you should plan a staycation this summer.
Amazing Food: As you likely know, Calgary has become a new destination for foodies. There are so many incredible restaurants and cafes that it is actually hard to keep track of them all. Some of more well-known spots include Charcut, Catch, Goro & Gun and Blink but you might want to check out gems such as Workshop Kitchen, Home Tasting Room, Buchanan's and Ki Japanese. These kinds of restaurants are what keep the food scene alive and the chefs keep knocking it out of the park time and time again! You can also go the take-out route and enjoy your meal al fresco in Prince's Island Park.
Homes Away From Home: Downtown Calgary is really lucky to be home to some really amazing hotels, all within the boundaries of the inner city. You've got your old world charm at the Fairmont Palliser, your modern luxury at Hotel le Germain and your classic staycation over at the Hyatt.
Incredible Shopping: Downtown truly is a destination for shoppers of all kinds. With local boutiques around every corner and big name brands located at Core Shopping Centre, there is something for everyone. Some of my favourite picks for unique and on-trend items include Purr Clothing, Fluevog and Little Burgundy. You've also got Holt Renfrew if you are looking for fabulous designer goods! Chinatown is always worth a wander - you can find some truly amazing things there. For beauty, I love hitting up the Aveda Institute for a hair wash + blow dry as well as to pick up some of my favourite hair products and makeup.
Floating down the Bow: In the summer there is truly nothing better than being near, in or on the water. Luckily, you can do that right in downtown Calgary thanks to the flowing Bow River. Floating down the Bow River has been a past-time of Calgarians for generations. Make it your summer tradition starting this year. All you have to do is rent a raft and life jackets! Make sure you map out your course with the folks at Eau Claire Rapid Rent.
Live Music: A staycation isn't truly a vacation unless you take in some live entertainment. In the summer months, it really should be live music. Not that there isn't other kinds of entertainment that you should be enjoying - film and theatre are both good choices (especially when you need some air conditioning!) but live music just has that perfect summer quality to it. Like the Calgary Folk Music Festival - it is pretty much the best thing that happens in July (besides the Stampede). Prince's Island Park is transformed into a wonderland of amazing music, food and vendors. It is something you won't want to miss. Be a tourist in your own city and fall in love with it all over again.
---