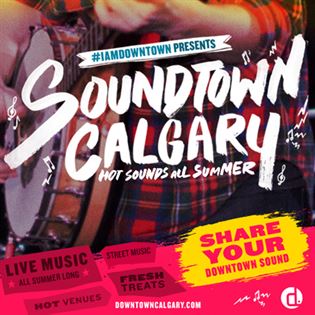 Downtown Calgary, proudly known as SOUNDTOWN CALGARY, brings to you the fourth week of FREE entertainment, after a busy Stampede, on the Stephen Avenue Summer Stage. Each Tuesday through Friday there will be FREE noon hour performances from an array of bands, dance troupes, DJ's and even comedians.
Occasionally, there will be special performances on Mondays and Saturdays. (Weather-Dependent).  Each show will start at 12:00 PM and finish at 1:00 PM.  We invite you to bring your lunch, take a seat near the stage and CONNECT with the CULTURE of SOUNDTOWN CALGARY. While you're at it, be sure to enter our Soundtown Calgary contest.
Here is this week's lineup of entertainment that will be bringing audiences and artists together on the Stephen Avenue Summer Stage:
Tuesday, July 14th - Cowtown Opera, sponsored by Lash Out Lounge, will be performing as a four piece acapella group. Known to explore the intersection of classical and pop culture with innovative and contemporary performances, Cowtown Opera has become a signature artistic company in Calgary. Performing cheeky, English-language interpretations of operatic classics, Cowtown Opera is sure to entertain and excite.
Wednesday, July 15th - After being rained out on June 12th, The Daughters of the Nile will be back to perform a set of belly dancing pieces. Don't miss a unique mix of Middle Eastern and North American belly dance styles.
Thursday, July 16th - The Calgary Franco Festival (FFC), will be performing on our summer stage on Wednesday, featuring different French dances and music styles. The first festival of its kind in Calgary will celebrate the Francophone cultures from Africa, Europe, Asia, South and North America, presented through music, dance, food and more. More information on the festival can be found here.
Friday, July 17th - The Ray Charles Tribute Orchestra, led by Grammy award winner Donald Ray Johnson on vocals, will present the sounds of Ray Charles. Backed by a 9 piece band, the ensemble will play the hits penned by the legendary singer.
Saturday, July 18th - NEW on stage is our Saturday series, the "Generations of Music". Last week we kicked off the series with a performance by Cheryl Fisher who featured the music of the 1930s. This week, The John Gray Trio featuring Allison Lynch will be on stage to sing to you the sounds of the 1940s. Please find upcoming Saturday dates in our events calendar as they are confirmed. The last show will be Saturday, September 19th, featuring the music of today.
YOU ARE OFFICIALLY INVITED to all of these shows. We look forward to seeing you there! Look for the stage most weeks outside the Telus Convention Centre between Centre Street and 1st Street on 8th Avenue SE. Check in for next week's lineup of fun and family friendly noon hour performances. FREE to the public. Entertainment on the Stephen Avenue Summer Stage is brought to you by Downtown Calgary.
---