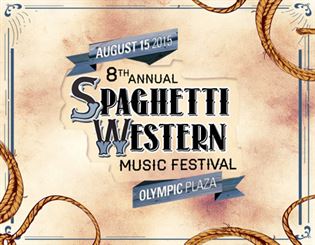 Downtown Calgary has partnered with the 8th annual Spaghetti Western Festival to bring alt-country to Soundtown. Join us August 11th, 12th, 14th & 15th for Spaghetti Western acts on the Stephen Avenue Summer Stage and catch the main festival at Olympic Plaza on Saturday August 15th from Noon to 9pm. The Spaghetti Western Festival is Canada's alt-country music festival. What is "Alt-Country" you may ask, well the genre defines any artist taking new directions in the country and western music scene. You're likely to hear these artist on the airwaves of CJSW or on the stage at Wine-Ohs or the Palomino Smokehouse.
All of these performances are completely free, family friendly and take place Noon to 1pm on the Stephen Avenue Stage which will be located just outside the Telus Convention Centre at 118 8th Avenue SE.
Read on for more info on the bands playing the Stephen Avenue Stage and if country music is not your thing, we've got a few more events that might just rock your world!
-
T. Buckley
The T. Buckley Band deliver soulful laments and gritty truths, wrapped in a cowboy blanket to create a distinct western Canadian flavour. This Calgary trio has been turning heads with T. Buckley as the bands lead vocalist and principle songwriter; Derek Pulliam, on stand-up bass and vocals and Tim Leacock on electric guitar, mandolin and vocals. The band brings a more-than memorable stage presence and harmonies that create a sound much larger than their modest stage set up. For the bands latest recording, Northern Country Soul, they worked with Grammy nominated recording engineer Miles Wilkinson who has worked with a number of musical icons such as Emmy Lou Harris, Guy Clark, Rodney Crowell and Billy Cowsill. Fresh off a late fall residency at the Banff Centre the band is busy working on another album to be released in late spring of 2015 which will be their second album in 18 months.
Devin Cuddy
Devin Cuddy has always made music his way, and some might argue, the hard way. As the son of one of Canada's most beloved singer/songwriters, Blue Rodeo's Jim Cuddy, country rock has been the soundtrack to Devin's entire life—he was born the same week Blue Rodeo began recording its 1987 debut album, Outskirts. But from the moment Devin was drawn to playing music, he was determined to get as close as possible to the sources of all the sounds he loved, whether they were made by rock and roll's founding fathers, the Grand Ole Opry's honky tonk heroes, or Jelly Roll Morton and the kings of jazz.
Mastering those styles was only taking things halfway, though. The most important lesson Devin learned from his dad was that the way a musician truly develops their craft is in front of audiences. From his home base at the Cameron House, the Queen Street West club that has long been the epicenter of Toronto's roots rock scene, Cuddy has done just that on almost a nightly basis. At the same time, he has helped cultivate a growing contingent of like-minded young musicians to slowly but consistently spread the word coast to coast.
The Tin and the Toad
Tin is about 5'11″ I think, with a full Jesus beard and broader shoulders than the average man his size due to wrassling calves in his formative years. He plays accoustic and electric guitar, mandolin, lead and harmony vocal.
Toad is slightly taller but not nearly as intelligent or articulate. He is, however, an avid flyfisherman with intimate knowledge of the South Saskatchewan drainage basin. He plays accoustic guitar, lead and harmony vocal.
These two have been writing songs and playing music together since their high school years and have family histories going back generations on their Vulcan County farms. Taking early influence mainly from outlaw and alternative Country and Western songwriters like Townes, Steve Earle, Waylon Jennings, Neil Young, and Ian Tyson, it grew to include a new generation of closer to home greats like Corb Lund and John Wort Hannam. They began writing their own Southern Alberta into song, and put together a band of merry mates to help make the sound.
They create music that tastes and smells like the lives of those living and working here on the foothills and plains of southern Alberta, with a slight bit of derangement. Authenticity is the point, but so is tequila and sausage on the barbeque.
Doug Waite
If Beach Blanket Bingo was filmed in the nether-regions of NW Calgary, Doug Waite would play the soundtrack. A little bit surf, a little bit B-movie rock n' roll, Doug is a formidable guitar player with a love of twang. From finger-style guitar picking to big hooks Doug's guitar stylings have won him a legion of fans through his work with the Bownesians, the Ramblin' Ambassadors and now in his solo project. Doug started playing guitar at age 15, the year he worked as a summer camp counselor in the foothills of the Rocky Mountains, and began writing songs soon after that. He first heard surf music the following year in his high school guitar club, where his language arts teacher, Mr. Leopard, showed him the classic song Pipeline, and explained the term 'reverRRRb'. Doug still sings Land-Locked Surfer, one of his first original songs lamenting the life of a surfer living in southern Alberta.
-
Notice there's no Spaghetti Western Fest performance on Thursday? That's because August 13th will feature a performance from Reggae Fest artist Jory Kinjo from Noon to 1pm.
More events:
Circus Pop-up Picnic - August 12, 2022
After a few picnics cancelled due to weather, this week's weather forecast looks great! Join us at the John J Bowlen Green Space for a Pop-Up Picnic. Bring your lunch to enjoy some outdoor fun. Our picnics include games, live music and food vendors. Join us for this FREE, family friendly event every OTHER Wednesday until September. This Picnic's theme is Pop Up Circus Camp: Ever wanted to join the circus? Try out stilt walking? This is your chance. Be the envy of the office by learning how to unicycle, juggle and stilt walk over your lunch hour with the Green Fools Theatre Circus Instructors. Bring your own lunch and indulge in a popsicle from Tropic Pops.
-
Reggae Fest - Aug 14 & 15, 2015
Let the Main Event on Friday, August 14 and Saturday, August 15 at Shaw Millennium Park transcend you beyond all boundaries. Experience why this Calgary family event has become the premier summer Reggae Festival in all of Canada. Chill out with a brew in the Village, hang with the kids in the Zone, savor the flavours of island spices and see what souvenir you'd like to take home.
-
Taste of Calgary - Aug 13 - 16, 2015
Taste of Calgary is the city's most appetizing festival, giving visitors the chance to sample the city's food, beverages, music and other cool things. Discover Calgary's global cuisines from a mix of unique restaurants and beverage companies. Plus get a taste of Calgary's great musicians. And, shop at some of the most interesting marketplace vendors in the city. Buy sampling tickets for $1 each right at the festival and use them to sample any of the food or beverage menu items. Admission to the festival is free.
-
Anti-Bullying Rally - August 15th, 2015
Join fellow Albertans at Municipal Plaza for a rally to stand against bullying and violence. Started by Edmontonian Manwar Khan, "Don't Be a Bystander" is a province wide campaign that hopes to empower bystanders to stand up for the victims of bullying and violence. For more information contact Manwar at [email protected]
-
Thanks for reading! Why not sign up for our Downtown Calgary Events Newsletter
---