Downtown Calgary, otherwise known as SOUNDTOWN CALGARY, brings to you the fourth week of FREE and exciting entertainment on the Stephen Avenue Summer Stage. Each Tuesday through Friday there will be FREE noon hour performances from an array of bands, dance troupes, DJ's and even comedians.
What makes this week's entertainment EXTRA special is that this Wednesday lands on Canada Day! Stephen Avenue is going to be packed with blocks of FUN at the Soundtown Calgary Music Experience.
Here is this week's lineup of entertainment that will be rocking the Stephen Avenue Summer Stage;
June 30th will feature Dance with France. A leading studio for ALL GUYS breakdance, Dance with France has won numerous achievement awards including consecutively being voted "Best Dance Studio" by the Calgary Herald's Readers' Choice Awards as well as winning "First Place Entertainment" for the Calgary Stampede Parade Prelude for seven years! Come watch them dance up a storm on Stephen Ave.
Wednesday. July 1st kicks off Canada Day in a HUGE and FUN way with the Soundtown Calgary Music Experience. There will be seven high energy bands playing on the Stephen Avenue Summer Stage. As well there will be a live DJ , merchandise booths, a variety of venders, buskers, dancers, and special performances throughout the day. It will be a lively day of entertainment for the entire family. This FREE Canada Day celebration starts at 10:45 am and goes until 8:15 pm. There will be chairs in front of the stage as well as open patios from the restaurants nearby. The entertainment will be scheduled as follows;
11:45 am - 12:45 pm Fraid Knot / Danilo Terra This is the hardest working band in Celtic music! Fraid Knot is a technically driven, high energy group of musicians who embrace elements from the Canadian East Coast and Celtic Genres, as well as Irish, Scottish, and North American traditional/rock in their covers tunes and original
music.

1:00 - 2:00 pm Kirby Sewell The Kirby Sewell Band is an electrifying Canadian Blues Rock experience. Reaching out with modern interpretations, the 5-piece band tells melodic heart pulling stories that come from the depths of an old soul, while breathing new musical life into a genre.

2:15 - 3:15 pm Zoo Lion / Craig Aikman Four hardworking Calgarians, finding their way through an ever‐changing music scene.  Founded in 2007, Zoo Lion has released two full‐length albums and one EP. They have toured Canada, playing hundreds of live shows, some big and some small.  They play a variety of hard rock and folk-rock fusions.

3:30 - 4:30 pm Sarah Beth Keeley Award winning COUNTRY ROCKIN  singer/ songwriter, Sarah Beth Keely is a recording Artist from Calgary Alberta. Sarah has a brand new CD, REACH, being released in 2015. She recently had a #1 video on the International Chart in the UK on CMT and she is soon heading to the other side of the pond in Oct 2015 to tour England, Ireland and Scotland.

4:45 - 5:45 pm Matt Blais With every note and word, Matt Blais stands out as a spirited, hardworking musician. His signature raspy vocals and blistering blues harmonica are the unique cornerstones of a high energy live show that has captivated audiences across Canada and in countries around the world.

6:00 - 7:00 pm Bluessmyth The word bluessmyth combines the words "blues" and "smyth". This symbolically describes the forging and fusion of their roots n' blues music with some heavy, metallic overtones, along with strong gospel & soul influences. Bluessmyth is a thinking person's rock band. Their lyrical content covers the gamut of the human experience.

7:15 - 8:15 pm Stone Iris As a completely independent, self-sustaining band, Stone Iris has released several albums, have been nominated for multiple Edmonton Music Awards, and were voted Sonic 102.9's Band Of The Month for March 2013. In the Fall of 2014, Stone Iris were named Indie Week 2014 Winners and represented Canada at UK Indie Week in Manchester last May. Their music is RAWK and rootsy, bold and bluesy. And so edgy that it can cut through steal.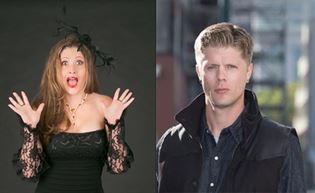 Throughout the day you will hear the sounds of DJ / Emcee - Sabo Forte and there will be special performances from Host / Emcee - Shannon Shade. Also performing between bands are dance groups Artists Elite and The Tomorrows. Catch Artists Elite between 12:45pm and 1pm and from 2pm to 2:15pm. The Tomorrows perform from 3:15pm to 3:30pm and 4:30pm and 4:45pm.
About The TOMORROWS: Calgary's premier hip hop dance company est. (2012). They are members of the worldwide "Flavorshop" hip hop movement, with one objective in mind; Quality Dance Education for all. "Competition has got us here, cooperation will get us there… We believe in a better tomorrow."

About Artists Elite International Performance Company: They are the professional division of Dance With France Studios and the originator of Calgary's variety talent show.  Artists Elite not only supplies dancers for corporate parties and industry events but also provides a home for adult dancers to continue performing and training. Celebrating 30 years, Dance with France is Calgary's high energy performing dance studio offering all styles of dance classes for all levels ages 3-adult.  Check out www.dancewithfrance.ca or www.artistselite.ca for more information.
Come join the FUN at the Canada Day Soundtown Calgary Music Experience!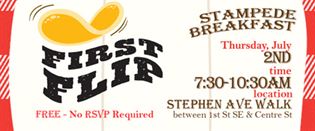 Thursday, July 2nd has a double treat! Join Downtown Calgary for the First Flip Stampede Breakfast at 7:30am for a free pancake breakfast and entertainment provided by the very talented Jacquie Drew and the Crew. The breakfast goes from 7:30 to 10:30am and is on Stephen Avenue between Centre street and 1st Street SE.
Thursday, July 2nd at NOON brings to the stage the sounds of Copperhead. What are the sounds, you ask? Think Motown meets soul with a hint of gritty folk. It's helmed by the haunting melodies and smoky, soulful voice of dynamic artist and songwriter Stevens. Their 2014 Calgary Folk Music Festival and Ship and Anchor Upstart category song contest win cemented their reputation as a force to be reckoned with. With a new album, recorded at Audities Studio and live off the floor, Copperhead is ready for the spotlight.
We look forward to seeing you there! Gather around the Stephen Avenue Summer Stage and experience SOUNDTOWN CALGARY. While you're at it, be sure to enter our Soundtown Calgary contest. Note; there will be no performances on the Stephen Avenue Summer Stage during Stampede. Stay tuned for the lineup of lively noon hour performances which will be resuming on July 14th, 2015. Entertainment brought to you by Downtown Calgary.
Stay Gold,
Shannon Shade
This has been a guest post by Shannon Shade. She's a local singer and entertainer who works with Entertainment Coordinator Kevin Shredder to promote the #IAMDOWNTOWN Summer Stage.
---