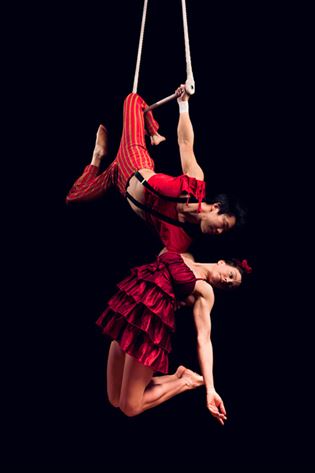 On Thursday August 20th, 2015 Downtown Calgary will be hosting a Night Market on Stephen Avenue and everyone is invited!
Stop by the 100 west block of Stephen Avenue (just off Centre Street on 8th ave SW) for a free, unique outdoor market featuring 10 vendors and entertainment from 5pm to 9pm.
Entertainment includes the fine folks at Cowtown Opera, John Gray Trio featuring Shannon Shade and The War on Light who will all be performing on the Stephen Avenue stage. Off the stage you can catch roaming troubadours the Polyjesters and a very special and unique trapeze performance from the Green Fools.
We're very excited for this trapeze performance from the Green Fools. This sort of performance is a sight to see and won't soon be repeated so you'll definitely want to come down and check it out. The artists from Green Fools will be doing a trapeze and an aerial strap performance. You won't want to miss this! Read on for some more information on trapeze and aerial strap performance.
-
Trapeze acts may be static, spinning (rigged from a single point), swinging or flying, and may be performed solo, double, triple or as a group act. It is officially the last performance of the circus.
The art of trapeze performance was developed by Jules Léotard, a young French acrobat and aerialist, in Toulouse in the mid-1800s. He invented the flying trapeze, practicing over his father's swimming pool.
These aerial acrobats you see tonight have years of training- They don't only require great strength, flexibly and sensibility-the making of a circus artist also requires the honing of expression and losing ones inhibitions. All these skills combine so that the artist can, express themselves safely and with intention, according to their chosen theme, and have a living, breathing shared experience with you… the audience!
—
Aerial straps is a circus discipline whose roots are believed to have come from leather reins used by the Chinese military horsemen in the 17th century. Eventually the discipline was embraced by acrobatic companies and was more akin to the rings' technique before transforming into its own unique discipline.
There is an interesting connection between "straps" and "estrapade", an ancient torture technique used on ships in the 15th century, which consisted of hanging by one's hands from a rope and putting the body through the outstretched arms. The result of this challenging history is an extremely challenging art form requiring grace, strength, flexibility and pain tolerance which gives the image of an artist strung up for all to see.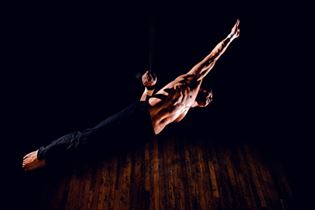 ---