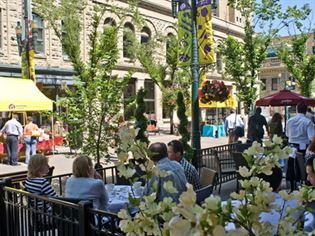 For everyone who has been enjoying the great weather, you'll be happy to note that patio rails will be delivered to pubs and restaurants on Stephen Avenue starting April 15th.
This date is still weather permitting, but we're hoping to have the rails installed by shortly after. It will still be up to individual pubs and restaurants when they will start patio service, but in past years we've had patios in full swing by May.
Also on the horizon is vendor season on Stephen Avenue. With the warmer weather comes outdoor vending and lunch hour events/entertainment. Our first vendors are scheduled to hit the avenue on May 1st and events/activities will start shortly after.
Be sure to sign up for the Downtown Calgary newsletter and follow us on Facebook, Twitter and Instagram.
---