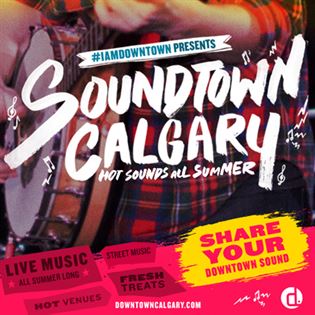 There's a ton of stuff happening this week in Downtown Calgary! As always, check out our Stephen Avenue stage from Monday to Friday this week for FREE Noon hour performances:
Monday, August 17 - Special Monday Performance! The Tilley Mennonite Gospel Choir, a mixed group of all ages performers who love to sing gospel hymns in acapella style will be on stage for a special Monday performance.
Tuesday, August 18th - On Tuesday, the Ray Charles Tribute Orchestra will be on stage to perform the hits penned by the legend himself. Formed by musical director John Gray and featuring Grammy award winner Donald Ray Johnson, the ensemble which showcases the city's finest musicians, will recreate the one of a kind sounds of Ray Charles, with hits such as "Georgia On My Mine" and "Let the Good Times Roll".
Wednesday, August 19th - GlobalFest is back on Stephen Avenue, after a spectacular performance on July 29th. Featuring authentic cultural dances, this show will get you prepared for the annual international fireworks festival, starting August 20th in Elliston Park.
Thursday, August 20th - Thursday is a two for one, with two half hour solo acoustic guitar performances. First up will be the 2014 International Blues Challenge winner, signer-songwriter Tim Williams. He has played festivals across the country, including last month's Blues Fest. Fun fact: you can see Tim's likeness on the mural outside Heritage Music on 11th Ave SW. Jenny Allen is up at 12:30. Coming from traditional country roots and dynamic folk rock, she is a must see at major folk festivals across Canada and the US – so don't miss her for free on Thursday.
Friday, August 21st - Cowtown Opera is also back on Stephen Avenue, after gracing our stage on July 14th. Sponsored by Lash Out Lounge, this performance will be a great way to spend your last work week lunch.
There's no show on the Stephen Avenue Stage on Saturday due to Yogathon which is taking over Stephen Avenue on Saturday, August 22nd.
Also coming up:
Stephen Avenue Night Market - August 20, 2022
Join Downtown Calgary on Stephen Avenue for a Summer Night Market on August 20th from 5pm - 9pm. Stop by after work or come down and and eat, drink, and shop under the summer night sky. Enjoy many different booths and vendors, as well as live music and entertainment. All of the fun takes place on 100 west block Stephen Avenue between Centre Street and 1st Street.
Entertainment includes:
A performance from Green Fools Circus featuring trapeze and aerial strap performers
Live art demonstrations and sales from local artists Adeline Halvorson and Steve Allen
The Downtown Stage will be set up to host different performances throughout the evening. Performers include Cowtown Opera and the Polyjesters
Pianist Sheldon Zandboer will be performing on our Wee Book Piano from 7pm - 8pm
Two pop-up Picnics this week! - August 18 & 19
Due to some issues with weather, we've had to rearrange our Pop-Up Picnic schedule slightly. This week we're holding picnics at Suncor Plaza on August 18th, and Fifth Avenue Place on August 19th. Join us for one or both events during your lunch hour. It's a great environment to enjoy your lunch, check out some free entertainment and relax in a urban oasis.
---