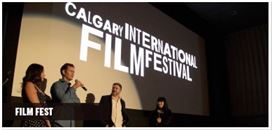 CIFF continues - Until Oct 4
Another of week of the Calgary International Film Festival continues in Downtown Calgary. Get to the CIFF website today and see what's still available in terms of tickets. This festival is a hot one, so don't be surprised that some screenings are already sold out!

Flamenco Fest - September 30, 2021
Join the Calgary International Flamenco Festival as they perform a free show for ProArts at Noon. Located in the Cathedral Church of the Redeemer, this free, noon hour show is fun for the entire family!

New Nurbox Theatre Location - Until Oct 4
The Nur Box Theatre is in Bow Valley Square showing off trailers as a part of the Calgary International Film Festival. If you work in the area, be sure to spend some time catching up on the hot films and documentaries playing at the film fest this week, and be sure to grab a coupon for a free popcorn courtesy of the Nutman.

New at Vertigo Theatre - Until Oct 18
A SPINE-CHILLING THRILLER - Jan is recovering from a nervous disorder when she and her husband rent a remote cabin from a strange farmer with a penchant for telling gruesome stories. Then her husband's sister arrives, and all manner of frightening events occur. What happens to fragile Jan as bodies appear and disappear gives this classic contemporary thriller its tremendously frightening impact…underlain with a comic twist!

Letters - Sept 30 to Oct 4
A show revealing how people thrive with connection and the unhealthy attachments they make when connection is void. With a focus on family, Letters seeks to display the issues society faces when parents give up on their children and when children are left alone; physically alone or alone with devices to keep them "occupied".
---