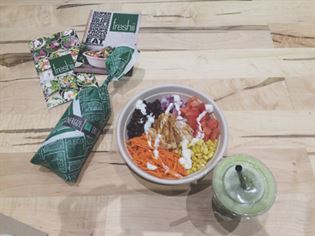 A new place to grab lunch just opened up in the heart of downtown. Located on the second floor of 444 5th Avenue SW, Freshii is serving up all sorts of delicious and healthy bites for the downtown set. Freshii, a company unique in the fact that they have a menu chockfull of healthy 'fast and fresh foods', is new to Calgary this year with several other locations throughout the city.
Freshii coined the term "health-casual" to describe how easy it is to enjoy fresh, colourful food every single day. With a diverse and completely customizable menu of breakfast, soups, salads, wraps, bowls, burritos, frozen yogurt, juices and smoothies served in an eco-friendly environment, Freshii caters to every dietary preference and type of taste buds - including vegans, vegetarians and Celiacs.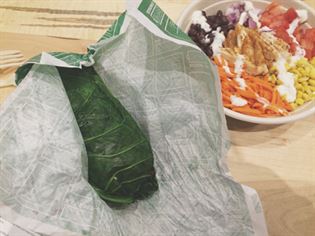 Not only do they have great options for busy folks on the go but they also have some really great special options that I am really excited about:
Healthy Breakfast: It is really hard to find a healthy option for breakfast when you are working downtown. Unless you have time for a sit down meal at a hotel or restaurant, you are very limited for grab-and-go options. Thankfully, Freshii opens at 8am with a delicious menu of healthy items such as grilled breakfast burritos, slow cooked organic oatmeal or a low-fat yogurt parfait. You can also hook yourself up with a delicious freshly pressed juice or a protein-rich smoothie like the Banana Nut Crunch smoothie.
Juice Cleanses: Have you ever wanted to do a juice cleanse? Now is your chance with Freshii. They offer up three different cleanses - 1 day, 3 day or 5 day. You will receive four juices per day plus a detoxifying salad for dinner so you enjoy a great crunchy meal. Their prices are super competitive compared to other juicing plans, ranging in price from $30 - $120. Simply pick up your juices and salads each morning from Freshii to ensure absolute freshness.
Corporate Catering: Office managers take note of Freshii's awesome catering options. With a variety of lunch options like salads, wraps and burritos and chef-designed bowls, your co-workers will never get bored during lunch meetings. The fresh vegetables and proteins will keep everyone energized to keep working hard all afternoon long.
Check out Freshii at #204, 444 5th Avenue SW. Watch for a second location opening this winter on 8th Avenue SW.
---