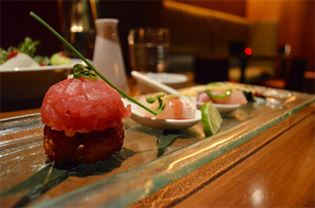 If you reckon yourself a foodie then you better start obsessively planning out your Big Taste strategy. With the festival rapidly approaching, you've got limited time to figure out your plan of attack. Luckily, I cannot wait to explore some of the best cuisine that this city has to offer so I've detailed out my top picks for fine eating. Really, you can't go wrong during the Big Taste but just in case there are too many choices for you to pick from, I've got your back. For a list of all the participating restaurants, see the Big Taste website.
Tasting Like No Other…
Raw Bar Cocktail Dinner: Well, first of all, you've always got my attention when you mention cocktails - but Raw Bar AND cocktails? Well, you might as well just take all of my money. You will want to buy tickets for this night because Chef Duncan Ly and resident mixologist and bartender Christina Mah will knock your socks off with their incredible creations.
National Bowling Afternoon: Who doesn't love bowling? And bowling downtown with tacos and drinks? Even better. If you haven't checked out the new National bowling alley this will be your perfect introduction to this awesome space.
SAIT Kitchen Party: Another cool venue in downtown Calgary, the SAIT Culinary Campus is where it is at. Enjoy an evening full of food and wine as you cook your dinner alongside some of SAIT's culinary talents.
Casual Eats…
Ki Japanese: I can't say enough good things about Ki Japanese and their dinner menu for Big Taste this year. With three delicious courses, explore Ki's unique Western take on Japanese cuisine for only $35.
The Libertine: Another local favourite, The Libertine is a great place to have a working lunch over their tasty $25 menu. Includes a Crispy Chicken Cuban Sandwich and, get this, freshly baked cookies for dessert. Right?!
---