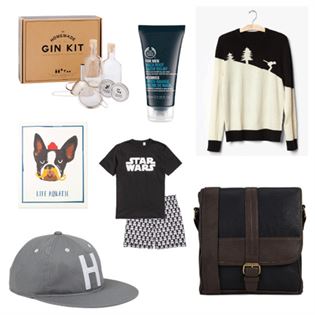 Hurrah. We are in the home stretch folks. Only a week left of shopping days until Christmas is officially here. Last week I shared some fun gift ideas for the women you are shopping for this year. This week it is all about the men. Whether you are shopping for a loved one, a co-worker or maybe your teen nephew, these are all great gifts.
Homemade Gin Kit, Indigo
This gift box is ideal for the bar cart aficianado who loves to craft cocktails in his spare time. Much more thoughtful than just a bottle of booze, this DIY kit is the gift that keeps on giving all year round.
Ski Sweater, Gap
Everyone needs a great Christmas sweater but who says it has to be ugly. This monochrome black and white crewneck is a great gift for anyone who likes to hit the ski hills or simply just enjoys a great aprés ski.
Life Aquatic Art Print, Papyrus
Any art or pop culture lover will enjoy this adorable Life Aquatic art print from Papyrus. Pair this gift with a cozy red toque so that they can channel Steve Zissou themselves.
Creston Cap, Little Burgundy
This grey cap is super versatile and work as gift for someone of any age. It is also currently on sale - what is better than saving money while shopping for gifts?!
Star Wars Pajamas, H&M
Every nerd in town would love a pair of these Star Wars pajamas; make their dreams come true with a pair of these. If you are feeling extra generous get your hands on some movie tickets for them!
Maca Root Razor Relief, The Body Shop
The perfect stocking stuffer is excellent for anyone who suffers from sensitive skin, namely when shaving their face daily. The Peruvian maca root extract helps restore your skin's vitality and moisturizes and protects it daily.
Beaz Bag, Aldo
A great bag for adventures of all kinds, the Beaz bag is ideal for stashing away laptops, tablets and files to the office. Easily versatile, it would be a great bag for toting on a day trip to the mountains thanks to it's slightly rugged style.
-
You can find all these stores, and much, much more in the CORE Shopping centre, conveniently located in Downtown Calgary. Make your Christmas shopping that much easier by taking advantage of their valet parking service. Valet parking is offered at no additional charge, so you can arrive and shop in style.
---