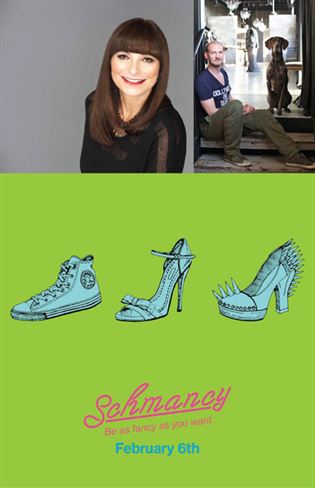 Before February becomes the month of love and cinnamon hearts, it is officially the month of style thanks to the Glenbow Museum's annual event, Schmancy! This year's special event is hosted by Fashion Television's iconic host, Jeanne Beker - one of the most stylish people in Canada.
Prior to the big night, the Glenbow Museum is hosting a special evening on Thursday February 4th, In Conversation with local and world-renowned designer Paul Hardy and Jeanne Beker. They will be taking part in an intimate and candid conversation about fashion, inspiration and the arts.
This is a great event to get you prepped and primed for Schmancy and maybe even do some brainstorming for your awe-inspiring outfit. These two fashion masterminds are a wealth of knowledge and inspiration so don't miss this great evening.
Thursday, February 4
Glenbow Museum - 7pm
Members $15/General $20
Next up, pick up your tickets for the big night - Schmancy! Join the Glenbow on Saturday February 6, 2022 to experience a fabulous, fashion-filled night at the museum. Schmancy is more than just a glamourous party - it's an event that will inspire enough stories, anecdotes and gossip to fill the year ahead! Jeanne Beker will still be in town to host this amazing one-night-only party as well as two very special guests, Buck 65 and Kent Monkman.
BUCK 65: Richard Terfry, better known by his stage name Buck 65, is an innovative Canadian musician. Underpinned by an extensive background in abstract hip hop, his more recent music has extensively incorporated blues, country, rock, folk and avant-garde influences.
Kent Monkman: Kent Monkman is a Canadian visual artist whose work explores themes of colonization, sexuality, loss, and resilience - the complexities of historic and contemporary Native American experience. His work has been exhibited internationally and is widely represented in the collections of major Museums in Canada and the USA.
For one night only, Glenbow Museum is transformed into a breathtaking party space. Stylish Calgarians will come together to support Glenbow and experience Schmancy: an evening filled with art, culture and entertainment.
Beyond being a great night to go out and be seen, Schmancy is also Glenbow's largest fundraiser. Over the past four years, this artful party has raised almost $2-million to support the museum which is only a win-win for our city's arts and culture community.
Saturday, February 6
Glenbow Museum - 8:30pm
Tickets $250 + other VIP options
---