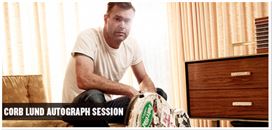 Corb Lund Autograph session - February 5, 2022
The 2016 Juno Host Committee is pleased to invite fans to come and meet Juno Award winner and proud Albertan, Corb Lund. He will be in store at HMV in The Core Shopping Centre on Friday, February 5th at 12:00p.m. to sign autographs.

ProArts Emerging Opera - February 03, 2022
ProArts presents Calgary Opera Emerging Artist Ensemble. On February 3rd, The Emerging Artists will present highlights in concert of Mozart's THE MAGIC FLUTE, Calgary Opera's upcoming spring production. Mozart's fantasy tale of love and the triumph of virtue is set in a mystical kingdom.

Human Bonspiel - Feb 1 - 12, 2016
Human Bonspiel involves teams of 4, with each team member sliding three times. Team Registration will begin at 11:30 a.m. each day of the event, with the first slides scheduled for noon. A portion of the proceeds from the event will go to support KidSport Calgary, who will also be on-hand collecting donations of hockey gear for kids in need.

Peking Acrobats - February 6, 2022
Renowned worldwide for their daring feats of balance and flexibility, the Peking Acrobats bring their contingent of contortionists, jugglers, trick-cyclists and gymnasts to the Calgary stage. The CPO provides the soundtrack for this one-of-a-kind visual spectacular that will have your heart pounding! 

Hudson's Bay Chinese new year - February 04, 2022
Stop by the Hudson's Bay downtown Calgary location on Stephen Avenue for Chinese New Year Celebrations!
Enjoy Chinese New Year Festivities, 12noon – 2:30pm!
Chinese Opera – the art of makeup and costume
Chinese art of paper cutting
Good fortune writing
Chinese Orchestra
Tea-leaf reading, 11:30am – 5:30pm, with a $100 purchase in cosmetics or fragrances
---
Want more info on upcoming downtown events? Why not sign up for the Downtown Calgary Events Newsletter? It's delivered to your inbox each week with fresh new events. It's free, we never send spam, and you can unsubscribe any time, so what do you have to lose?
---