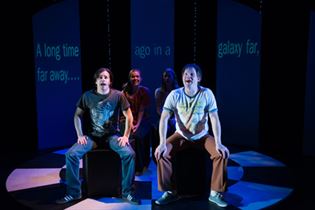 Photo Credit Benjamin Laird Arts & Photo
The Boy's Own Jedi Handbook by Stephen Massicotte is technically the first play that Ground Zero Theatre ever put on. With the release of Star Wars: Episode VII - The Force Awakens, it's quite a fitting time for Ground Zero Theatre to bring back this play, with the support of Hit & Myth Productions. The play allows everyone to remember what it was like to be a kid. And it's a nice journey back.
In the play, the Kid (Christian Goutsis) tells the story of the summer that he was in Grade 6, and he had just moved to a new city and Star Wars: Episode IV - A new hope, had just come out. He acts out scenes from the movie with his brother and sister. He is nervous about being the new kid in school but quickly connects with James (Karl Sine) over Star Wars. The Kid tell us how this movie got him through this hard transition in his life. Later, when he is in Grade 7, he is faced with the idea of growing up and whether he has to leave Star Wars behind.
Massicotte's script is fun and a throwback to playing games as a kid. And Goutsis and Sine transform into little boys who are trying to blow up the Death Star. Deitra Kalyn costume design had Sine's facial hair shaved off and both Goutsis and Sine have hair cuts. JP Thibodeau's projection design sets the location of each scene, with projections of the sky and the kitchen projected in the background.
Watching the Kid and his friend James take on the world is a joy to watch. They have really connected with this movie and it gives them the courage to keep going. It quells their anxiety and gives them strength. Director Ryan Luhning has Goutsis master his body language to appear slightly older in the second half. Sine is hilarious as James, playing the fun loving friend who sometimes struggles with fitting in. Amber Bissonette and Sarah Wheeldon play ensemble parts and the roles of Kerry and Mandy respectively, the girls who take an interest in both the Kid and James. Wheeldon gets to be a bit more creative in her role as the teacher, playing a little Star Wars of her own.
The boy's own Jedi Handbook is a fun story that is filled with references to Star Wars. If you're a fan of the series, this play is for you. Even if you're not, it's so great to watch the magic of child's play on the stage.
Ground Zero Theatre with the support of Hit & Myth's production of The Boy's own Jedi Handbook plays until Sunday. More information is available online.
---