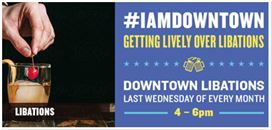 Downtown Libations - March 30, 2022
On the last Wednesday of every month Downtown Calgary brings you 'Downtown Libations' at a different venue each month. For this Libations experience, bring your friends to enjoy a gin cocktail, experience a Canadian craft gin tasting guided by Spirit of the Wench and enter to win a cocktail basket featuring a gift certificate for the Derrick Gin Mill & Kitchen and all of the essentials for cocktail creation!
Join us Wednesday, March 30th from 4pm to 6pm at the Derrick Gin Mill & Kitchen for this month's event.
The JUNO Cup Jam is a night of fun musical collaborations and covers to kick-off JUNO weekend! The concert fundraiser features performances by JUNO Cup players with all proceeds benefiting MusiCounts, Canada's music education charity associated with CARAS.
Brewmaster's Dinner - March 31, 2022
In partnership with Wild Rose Brewery, Catch & the Oyster Bar presents the Wild Rose Brewmaster's Dinner on March 31, 2022 at 6:00 pm. Guided by Wild Rose Brewmaster Mark Kerrigan, this special event features five unique craft beers, each paired with a culinary course prepared by Chef de Cuisine Bryan Michaels.
ONE HUNDRED bands in FIFTEEN locations - a music lovers dream come true in Calgary on Friday, April 1st and Saturday April 2nd. Join in the JUNO week festivities as Calgary hosts JUNOfest - a 2 night musical extravaganza that showcases our thriving music scene by presenting a mix of local bands, touring artists and JUNO nominees.
Fantastic Four Screening - April 3, 2022
Bring your friends to poke fun at this special screening of "The Fantastic Four" - Sunday, April 3rd matinee performance at the Globe Cinema. Proceeds from this event will go towards the stage performance of "King Kirby," the man who pours his quintessentially Twentieth Century life into his comics, only to make the fateful mistake that sends him into obscurity while his creations become known to every person on Earth.
---
For more events, sign up for the Downtown Calgary Events Newsletter
---