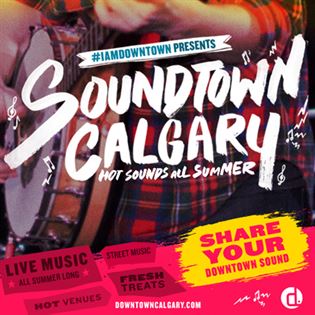 Downtown Calgary, or as we like to say, SOUNDTOWN CALGARY, brings to you yet another week of FREE entertainment on the Stephen Avenue Summer Stage. Each Tuesday through Friday there will be FREE noon hour performances from bands, dance troupes, DJ's and even comedians.
Occasionally, there will be special performances on Mondays, Saturdays and Sundays. (Weather Dependent).  Each show will start at 12:00 PM and finish at 1:00 PM.  Grab your lunch, grab a seat and enjoy Calgary's diverse culture as you soak up both the sun and the sounds of the city. SOUNDTOWN CALGARY is ALIVE and the creative HEART of the city BEATS stronger than ever. Here is this week's lineup of entertainment that will be wowing us on the Stephen Avenue Summer Stage.
Monday, June 15th kicks off the Jazz YYC Summer Festival with a noon hour Stephen Avenue Jazz Parade! Grab your beads and follow a New Orleans style parade down Stephen Ave. You're sure to witness some colourful entertainment along the way. The parade starts outside Bankers Hall and makes it way to the stage outside the Telus Convention Centre (between centre and 1st street SE).
Tuesday, June 16th welcomes to the stage The Invertigo Jazz Trio. The Invertigo Trio is a contemporary jazz saxophone trio inspired by the stylings of Sonny Rollins, John Coltrane, Joe Henderson and Dexter Gordon. They play well-known jazz standards as well as create original compositions. Their music is energetic and there is lots of variation.
Wednesday, June 17th features The Repsol Choir. The Repsol Choir, formerly known as Talisman Energy, is a recreational choir that was formed in the spring of 2002. This four-part choir takes the role of company ambassador seriously, merrily performing at various downtown and community venues. They continue to challenge themselves with more complex pieces, mixing contemporary favorites with classical compositions.
Thursday, June 18th brings to the stage Fromage Chaud. This toe-tapping trio plays a variety of recognizable jazz, blues and world beat dance music. What makes them unique is that the instrumentation consists of fiddle, accordion, mandolin and vocals. It's the kind of music that makes you smile.
Friday, June 19th welcomes Calysto Steelband. If you love the sound of steel drums then we encourage you to check out this ensemble. Local to Calgary, Calysto Steelband is a non-profit organization that features members of all ages and backgrounds. This high energy group has a large repertoire of music. They play calypso, reggae, latin, country, folk, pop, jazz, bossa nova and easy listening. Experience the sounds of the Caribbean right on the Stephen Avenue Summer stage in Calgary!
We look forward to seeing you there! Look for the stage most weeks outside the Telus Convention Centre between Centre Street and 1st Street on 8th Avenue SE. Check in for next week's lineup of FABULOUS and FREE noon hour performances. Entertainment on the Stephen Avenue Summer Stage is brought to you by Downtown Calgary.
Stay Gold,
This has been a guest post by Shannon Shade. She's a local singer and entertainer who works with Entertainment Coordinator Kevin Shredder to promote the #IAMDOWNTOWN Summer Stage.
---