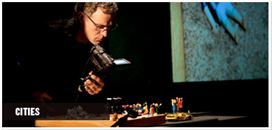 CITIES at Theatre Junction - May 4 - 7, 2016
New at Theatre Junction: CITIES
Onstage: a lone actor, a table, a camera and dozens of objects he will use to build, design and conjure up imaginary cities. Sometimes, he tells the agonizing tale of a city; every so often, he describes the residents of another city. In one case, he focuses on architecture and urban planning, in another, on the demographic boom. With each city, the narrator presents a different view of the world, musings on time, and questions human relations.

Percussionists Rob Maciak and Chris Santos have prepared an entertaining, educational and humorous performance, which will introduce you to a wide variety of percussion instruments and an even wider variety of musical styles to which they are applied, including world music, classical music, video game music and film scores!

Painting Party at The CORE - May 5, 2022
The CORE Shopping centre is partnering with Vin Gogh Paint and Sip Studio for a unique Mother's Day themed paint night at the CORE on May 5, 2022 from 5:00pm - 7:00pm.
For $25.00 you'll be "Painting it Forward" and helping the Calgary Women's Emergency Shelter, while also taking home your work of art.

Try the tracks Jane's Ride - May 7, 2022
Try the Tracks - A Jane's Ride along the Centre City Cycle Track Network
You have questions: What is a bike turn box and how do I use it? What's a multi-use crossing? I drive along the cycle tracks to get to work, what's it like to travel in them by bike? How many people are using the cycle tracks and how do you count them? What happens to the cycle tracks in the winter? We have answers! Whether it's your first time venturing downtown by bike or you are a seasoned cyclist looking to learn more, join City of Calgary staff on an informative and fun bike ride along the cycle track network and discover how easy it is to get around downtown Calgary by bike.

Art walk with Art - May 5, 2022
Enjoy a good walk with good art in Downtown Calgary with this month's Art Walk with Art. These interactive art tours happen on the first Thursday of each month and feature an artistic walking tour of public art, as well as galleries in the Downtown Calgary area.
---
To have events like these emailed to you every week, sign up for the Downtown Calgary Events Newsletter
---