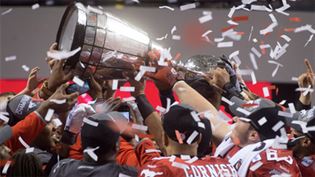 Grey Cup Celebration Rally at Olympic Plaza
Tuesday, Dec 2nd, 2014 - The City of Calgary is proud to host a free rally to celebrate Grey Cup Champions, Calgary Stampeders Tuesday, Dec 2, 2021 from 11:30 a.m. to 1:30 p.m. at Municipal Plaza and Olympic Plaza.
Stamps fans are invited to attend, listen to players and coaches as they reflect on the season and the championship game, hear from Mayor Naheed Nenshi, and enjoy entertainment by Stampeders' mascot Ralph the Dog and the Outriders cheerleaders.
Wear red and white, bring a food bank donation, and enjoy some great giveaways, and a few surprises. Food trucks will be on hand. Plus, purchase your 2014 Grey Cup championship merchandise.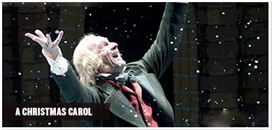 Every year this holiday production warms thousands of Calgary hearts, both young and old. Last year the Calgary Herald declared it "an annual gift that deserves to be treasured and passed down from generation to generation." Get your tickets early and be part of the magic. Be sure to buy your tickets early as many shows sell out!
Showtimes:
Dec 3rd - 7:30 pm
Dec 4th - 7:30 pm
Dec 5th - 7:30 pm
Dec 6th - 2:00 pm & 7:30 pm
Dec 7th - 2:00 pm

Thursday, December 4th, 2014 - Love's giddy highs and darkest lows – the ingredients of the exquisite ballads, the chansons of the bars and cafes of Paris. Celebrate the icons who brought them to life in this tribute including, Edith Piaf, Charles Aznavour, Maurice Chevalier and Michel Legrand. From Piaf's warbling anthem La vie en rose, to Jacques Brel's Ne me quitte pas, these beautiful heartfelt songs are a sometimes soulful, always passionate love letter from Montmartre.

Opens December 4th - A seasonal treat that knows that "Santa's Your Daddy" and that there's nothing better than "Bailey's for Breakfast!" Forte Musical Theatre Guild is proud to present the 2014 Holiday Show, Naughty but Nice!
Sometimes racy, sometimes sweet, Naughty but Nice! takes a hilarious and slightly risque look at everyone's favourite holiday season and promises to leave you with a song in your head and hope in your heart!

With Bells On
Opens December 1st - An elevator. An uptight, recently divorced accountant. A drag queen dressed as a Christmas tree on her way to compete for the coveted 'Christmas Queen' title. When the elevator gets stuck her dream is in danger and an unlikely friendship is forged. This hysterical and heart-warming show reminds us that the spirit of Christmas can arrive in unexpected packages.

Mass Energy Choral Concert
Wednesday, December 3rd - This much anticipated annual event features three of Calgary's more prominent oil patch community choirs – Talisman Energy, Suncor Energy and ConocoPhillips!
Each choir presents a short program and then all are combined for a remarkable and moving MASS ENERGY choral finale. A perennial audience favourite, this is a great concert to kick-off the Christmas choral season!
---