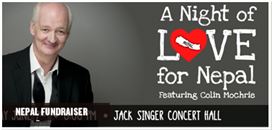 Nepal Fundraiser
June 2nd, 2015 - A night of comedy and entertainment benefiting the relief effort in Nepal. Acts include Revv52, Loose Moose Theatre, Green Fools, That Don Cherry Guy, Hamlet the Clown, Tom Jackson, The Heebee-Jeebees, Micheal Bernard Fitzerald and will be hosted by CBC's Doug Dirks.
The benefit will also feature special guest Colin Mochrie!

[email protected]
June 3rd, 2015 - ProArts @Noon Concert Series is proud to present two wonderfully accomplished piano students of the Calgary Arts Summer School Association (CASSA); Stephanie Hay and Eric Klaszus. C.A.S.S.A. started twenty years ago with the brilliant idea of providing a summer workshop for piano students. They now offer seven fine arts courses and workshops and an annual recital. Their courses are designed for fun and education for a wide range of interests and ages.

Goodlife City Chase
June 6th, 2015 - The GoodLife Fitness City Chase is Canada's largest urban adventure race! Navigate your way through the city to find hidden Chase Points that will test both your fitness and your mind!

Out to lunch tour
June 5th, 2015 - Artist Sandra Bromley takes you inside - literally - Gun Sculpture, a monumental testament to the violent legacy of firearms constructed from over 7000 decommissioned weapons.
MEMBERS FREE/GENERAL $5

1st Pop-Up Picnic of 2015
June 10th, 2015 - Bring your lunch to Summer 2015's first Pop-Up picnic at the Banker's Hall courtyard. The theme will be Jazz, and will feature a performance curated by the good folks at Jazz YYC. Bring your lunch and enjoy the weather with picnic games like ring toss, giant chess and Jenga.
---