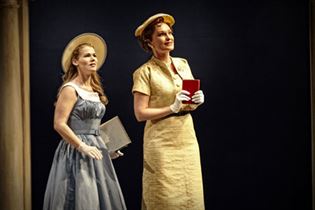 (l to r) Anwyn Musico, Susan Gilmour. (Trudie Lee)
In Theatre Calgary's production of The Light in the Piazza there is an orchestra on stage and it is a lovely touch to a highly romantic story. The musical features lyrics by Adam Guettel and is based on the novel by Elizabeth Spencer.
The story is romantic because of the narrative, a young girl falls in love with a young man while she is vacationing in Florence, Italy and it is also romantic musically as the songs are operatic and feature some sung completely in Italian.
The Light in the Piazza, based in 1953 in Italy, tells of the Johnsons, a wealthy American family vacationing in Florence. Margaret (Susan Gilmour) wants to show her daughter Clara (Anwyn Musico) her passion for Italy. But Clara meets Fabrizio (Louis Rossetti) and they fall in love and eventually want to get married, after seeing each other a couple times.
Clara and Margaret meet Fabrizio's father (David Keeley) and mother (Kate Ryan) as well as brother Giuseppe (Michael Torontow) and his wife Franca (Tracy Michailidis). The problem arises when it is revealed that something is wrong for Clara, something that her mother and father Roy (Christopher Hunt) haven't told her.
The musical features some moving singing, especially when it's mostly in Italian. The story is a bit flat in its plot elements but the production that Theatre Calgary puts on is quite lovely. Christina Poddubiuk makes use of the Maxbell Theatre's rotating stage and has high columns as the set. When Clara and her mom go to a museum, empty frames drop down. It is quite innovative and gives the production an edge.
Gilmour and Musico are quite the singers and fit their roles quite well. Gilmour's Southern accent is quite well done. Rossetti is the love drunk Fabrizio without going over the top. Director Micheal Shamata has the musical unfold at a steady pace.
The Light in the Piazza is like taking a trip to Florence. It is a romantic musical production, in which the music and singing will sweep you off your feet. The story line? Not so much.
Theatre Calgary's presentation of The Light in the Piazza runs until May 22nd. More information is available online.
---